Turning the Tables
Welcome to Turning the Tables 2019!

From 1–30 April 2019, restaurants, cafés, food retailers, and producers will join the Kitchen Garden Foundation, to raise funds to help Australian children grow, harvest, prepare and share.

Take a sneak peak at the 2018 campaign below, and sign up to our newsletter or social media for exciting news as it becomes available.

"From everyone here at the Foundation – thank you so much. Without you we simply could not continue to pursue our vision – to teach children positive food habits for life."
- Stephanie Alexander AO, restaurateur and food writer
Meet the Campaign Heroes
Guy Grossi
Chef Director at Grossi Restaurants
"Taking the time to learn about food provenance, preparation and cultural importance is vital to the wellbeing of young people, both physically and socially. It is a way of connecting with others, respecting ourselves and our environment."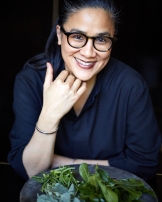 Kylie Kwong
Chef and Owner of Billy Kwong
"I am honoured to be supporting the Stephanie Alexander Kitchen Garden Foundation and the Turning the Tables initiative to help raise continued awareness for their important work – providing a pleasurable food education for young children. The creation and care of a kitchen garden teaches children about the natural world and how best to use the resources we have, as well as showing them how easy it is to bring joy and wellbeing into our lives through growing, harvesting, preparing and sharing fresh, seasonal produce."
Adam Liaw
Cook, television presenter and author
"Food is an expression of culture, and teaching my children through food is one of the most important responsibilities I have as a parent. For all of us, our children's relationship with food is far too important to leave to fad diets and corporate marketing."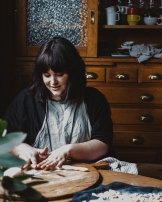 Julia Ostro
Cook, teacher and author of Ostro
"Pleasurable food education is a real investment in the future of our children and the environment. A space where children learn and experience how to nourish themselves and be connected to the food they eat is simply essential. As a teacher, mother and a cook, I believe it is absolutely our responsibility as adults to be passionate supporters of this sort of education. We must give our children meaningful and enriching opportunities to grow, cook and share food together, instilling a lifelong love for fresh and seasonal food and an understanding of where it comes from – we owe it to them!"
Anna Gare
Chef, author and Director of Deluxe Catering
"I have been a WA ambassador for the Stephanie Alexander Kitchen Garden Foundation since 2010. I have had the pleasure of seeing schools start with the program and watching them grow and flourish on many levels. Not just within the school but also in the broader community. Not only does this program cover all aspects of the schools' curriculums, it gives the students a healthy relationship with the preparing, growing and sharing of food which will last them a lifetime. Just like reading and writing, I believe every child deserves a good food education and I truly believe that the Kitchen Garden Foundation has created a brilliant accessible program which can be adapted into every school. If every school delivered pleasurable food education, we would have a healthier and happier nation."
Dr Rosemary Stanton OAM
Nutritionist
"Over 40% of the average child's energy intake comes from junk foods and drinks and less than 1% of Australian children eat the recommended servings of vegetables. There is ample evidence from many studies around the world that the best way to get children to eat more vegetables and fruit is for them to be involved in growing and preparing them. And that is exactly what the Stephanie Alexander Kitchen Garden Foundation does. I'm proud to support it."
Dine out this May at participating restaurants