The Board
Stephanie Alexander AO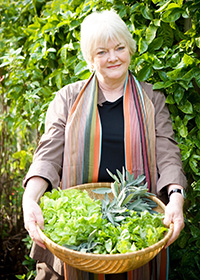 Stephanie Alexander is the author of fourteen books, including the Australian kitchen bible The Cook's Companion, and is a renowned chef and restaurateur. In 2009 she published the Kitchen Garden Companion, an inspirational family guide to growing and using edible crops. Her 35-year career has spanned books, words, food and young people, and she is now preoccupied with giving back wisdom and experience in meaningful ways. In practical terms this has meant establishing the Stephanie Alexander Kitchen Garden Foundation as a means to convince policy makers that learning about food, how it grows, and the pleasure it can bring are vital to a healthy, happy society.
In 2014 Stephanie was named an Officer in the General Division of the Order of Australia (AO) 'for distinguished service to education through the design and establishment of schools-based learning programs promoting improved food and eating choices for children, and as an author'.
Image courtesy of Simon Griffiths.
Paul Bangay OAM
Paul Bangay is arguably Australia's preeminent garden designer. For over 25 years he has designed gardens all over Australia and overseas, including locations in New York, St Tropez, Positano, Jamaica, New Zealand and The Cook Islands. After huge success with his early 'Botanica' exhibitions, Paul's publishing career commenced with his first book The Defined Garden, followed successively by The Boxed Garden, The Balanced Garden, The Enchanted Garden, Paul Bangay's Garden Design Handbook and the latest title, Paul Bangay's Guide To Plants. More books are planned and underway.
In 2018, Paul was awarded a Medal of the Order of Australia for services to landscape architecture.
Kate Doyle
Kate has been involved in the healthcare industry for over 15 years, predominantly in the area of sales and marketing of information technology for the hospital sector. During that time she managed and directed large-scale sales campaigns across the Asia Pacific region. This involved interaction with corporations, health services and government health departments. Kate has been a director of several companies, including Healthnet and iSOFT Pty Ltd. Kate brings to the Foundation enormous expertise in the areas of sales and fundraising, marketing and event management, and corporate governance. She is also passionate about food, the enjoyment it contributes to life and the opportunity it gives us to share with our families, friends and community.
Prue Gill
Prue is a long-time classroom teacher, recently retired from the secondary sector and now teaching at Monash University. She has taught in a variety of settings: government and private secondary schools, TAFE and the tertiary sector, and in many different types of classroom: discipline based, inter-disciplinary, vertical age groupings and in ream teaching settings. Prue has also been involved at both policy and planning level in the design and implementation of VCE English, and was for many years an assessor of VCE English and Literature. She is a past president of the Victorian Association for the Teaching of English, a former member of the (then titled) Victorian Curriculum and Assessment Board. Prue has recently been in Uganda helping the teachers of a district primary school for orphaned and vulnerable children integrate their permaculture garden into the school curriculum.
Helen Murray
Helen is Chair of the Board and a former teacher and social worker who was employed by the Victorian Education Department before taking a position as a lecturer in the School of Social Work at the University of Melbourne. In 1997 she relocated to the USA with her husband, and for eight years lived in up-state New York where she was Director of the Syracuse University Internship Program. Her responsibilities included arranging internships for students across the USA, and consulting with the internship programs in the University's centres in Europe and Hong Kong. On her return to Melbourne in 2005 she was employed as  the Community Wellbeing Program Manager with the Ian Potter Foundation in Melbourne until she retired at the end of 2010. She is a strong believer in the importance of intervening early in a child's life to develop desirable attitudes and behaviours, and is very keen to see the Foundation's educational program introduced into all Australian primary schools.
Ian Sanders
Ian Sanders, a senior partner with Deloitte, is a relationship partner and auditor with 30 years' experience in Australia and the US.  At present Ian serves a global ASX 10 organisation as the relationship partner for Deloitte across Asia Pacific.  He has audited and advised ASX listed, government, and globally owned finance organisations across mining, renewable energy, services, education and manufacturing amongst others. Ian is a faculty member of Deloitte University in Singapore, and thoroughly enjoys mentoring soon to be and new partners within Deloitte.  Across the community Ian has enjoyed serving the Victorian Scouts as a Group Leader and Cub Scout Leader for 5 years, being treasurer of the local childcare centre for 3 years, and also enjoyed being a Board member and Audit Committee Chair at Anex (now Penington Institute) for 5 years, a NFP based in Melbourne.
Kerri Simpson
Kerri Simpson has been an employee of the Department of Education for the past 40 years working in both the Western and Northern Metropolitan Regions of Melbourne.  Kerri has been an active primary teacher working across all year levels, and has worked as a literacy consultant. She was also one of 148 Regional Network Leader's selected to work in the Australian Council for Educational Research (ACER) School Improvement initiative between 2008 and 2012.  This position enabled Kerri to work as a change agent in a network of 26 schools in the Northern Region of Metropolitan Melbourne. Kerri has been a Principal in three schools and has implemented Stephanie Alexander Kitchen Garden programs in two of these schools; one funded by the Foundation and the other self-funded by the school.  
Vee Vien Tan
Vee Vien Tan is a Senior Lawyer at leading Australian law firm Gilbert + Tobin Lawyers.  She has extensive experience acting for commercial and government clients across a wide range of areas.  Vee is highly experienced in conducting investigations for clients and running proceedings in courts and private arbitration.  She is also well-known for her financial literacy, her ability to explain difficult concepts and her creative and strategic thinking.  Vee has conducted training for clients and members of the Association of Corporate Counsel Australia on "Managing Internal Investigations" and "Protecting Your Brand In An Online World".  She is also an author of the Australian chapter of The Art Collecting Legal Handbook published by Thomson Reuters and was previously a finalist in the Lawyers Weekly Annual 30 Under 30 Awards.  Vee is deeply passionate about pleasurable and immersive food education and is a huge proponent of the program's drivers in instilling a healthy approach and appreciation for nutrition, science and mathematics.