The Board
Stephanie Alexander AO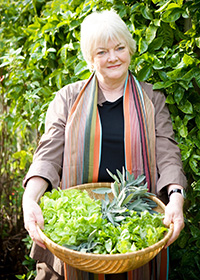 Stephanie Alexander is the author of fourteen books, including the Australian kitchen bible The Cook's Companion, and is a renowned chef and restaurateur. In 2009 she published the Kitchen Garden Companion, an inspirational family guide to growing and using edible crops. Her 35-year career has spanned books, words, food and young people, and she is now preoccupied with giving back wisdom and experience in meaningful ways. In practical terms this has meant establishing the Stephanie Alexander Kitchen Garden Foundation as a means to convince policy makers that learning about food, how it grows, and the pleasure it can bring are vital to a healthy, happy society.
In 2014 Stephanie was named an Officer in the General Division of the Order of Australia (AO) 'for distinguished service to education through the design and establishment of schools-based learning programs promoting improved food and eating choices for children, and as an author'.
Image courtesy of Simon Griffiths.
Janet Whiting AM - Patron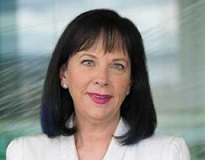 Janet is head of Gilbert + Tobin's Disputes + Investigations practice and a senior partner in Melbourne.
Janet is recognised as one of the pre-eminent commercial litigators in Australia. Janet's client portfolio includes global corporations, ASX top 50, governments and regulators.
In addition, Janet has been involved in the corporate arena as a director throughout her professional career. She is the President of the Council of Trustees of the National Gallery of Victoria, the first woman to hold the position in the Gallery's 158 year history. She is also a director of Visit Victoria, Newman College and is Patron of the Stephanie Alexander Kitchen Garden Foundation.
She was made a Member of the Order of Australia in 2015 for her significant service to the community through the arts, health and major events sectors and as a legal professional.
Helen Murray - Chair
Helen is Chair of the Board and a former teacher and social worker who was employed by the Victorian Education Department before taking a position as a lecturer in the School of Social Work at the University of Melbourne. In 1997 she relocated to the USA with her husband, and for eight years lived in up-state New York where she was Director of the Syracuse University Internship Program. Her responsibilities included arranging internships for students across the USA, and consulting with the internship programs in the University's centres in Europe and Hong Kong. On her return to Melbourne in 2005 she was employed as  the Community Wellbeing Program Manager with the Ian Potter Foundation in Melbourne until she retired at the end of 2010. She is a strong believer in the importance of intervening early in a child's life to develop desirable attitudes and behaviours, and is very keen to see the Foundation's educational program introduced into all Australian primary schools.
Ian Sanders - Treasurer
Ian Sanders, a senior partner with Deloitte, is a relationship partner and auditor with 30 years' experience in Australia and the US.  At present Ian serves a global ASX 10 organisation as the relationship partner for Deloitte across Asia Pacific.  He has audited and advised ASX listed, government, and globally owned finance organisations across mining, renewable energy, services, education and manufacturing amongst others. Ian is a faculty member of Deloitte University in Singapore, and thoroughly enjoys mentoring soon to be and new partners within Deloitte.  Across the community Ian has enjoyed serving the Victorian Scouts as a Group Leader and Cub Scout Leader for 5 years, being treasurer of the local childcare centre for 3 years, and also enjoyed being a Board member and Audit Committee Chair at Anex (now Penington Institute) for 5 years, a NFP based in Melbourne.
Kate Doyle
Kate has been involved in the healthcare industry for over 15 years, predominantly in the area of sales and marketing of information technology for the hospital sector. During that time she managed and directed large-scale sales campaigns across the Asia Pacific region. This involved interaction with corporations, health services and government health departments. Kate has been a director of several companies, including Healthnet and iSOFT Pty Ltd. Kate brings to the Foundation enormous expertise in the areas of sales and fundraising, marketing and event management, and corporate governance. She is also passionate about food, the enjoyment it contributes to life and the opportunity it gives us to share with our families, friends and community.
Simone Falvey-Behr
Simone, a mental health practitioner in private practice, is on the Board and Chair of Ethics for the Psychotherapy and Counselling Federation of Australia. Her qualifications in anthropology and psychotherapy reflect her interest in human interactions both in societies and as individuals. Prior to emigrating from France in 2006, she held professional posts in the Council of Europe for some 30 years, orchestrating multicultural educational programs that aimed to ward off conflicts within wider Europe. Other functions included UN, NFP, Board and Committee roles both internationally and in Australia. With her husband, she has also spent periods at Cambridge, and in Africa and Asia, associated with food, agriculture and equity programs. Her governance experience and involvements in education and the cultural aspects of food have brought her to the Foundation, whose work she sees as a major contribution to improving the physical and mental wellbeing of individuals and society.
Simon Bell
Simon is Head of School, Melbourne School of Professional and Continuing Education (MSPACE) and a fellow of the Centre for Social Innovation at Cambridge University, where he was previously a faculty member. Simon has worked extensively with industry in a research, consulting, and education capacity. He writes on a range of issues including customer education, regional clusters, and service innovation. His research has focused on the services, healthcare, and retail industries and has been published in both academic and practitioner journals. While he has worked with large, for-profit corporations, both locally and abroad, he has an abiding interest in third-sector organisations and their social missions. The Foundation uniquely combines Simon's keen interests in food, education, and social impact.
Robert Csoti
Robert Csoti is a recently retired Principal, who finished his career at Elwood Primary School in Melbourne, Australia, in July 2018. Rob ran the Stephanie Alexander Kitchen Garden Program at Elwood Primary, where it has been in operation for more than 10 years. He has more than 35 years' experience in the Victorian school system. Rob worked as a Principal for 14 years in a variety of schools and communities, and still maintains a strong passion for building communities, fostering positive relationships between all members of the school, personalising curriculum and looking for alternate structures for learning. Rob has spent more than10 years collaborating with Dr George Otero and David Rothstadt in Victoria and Queensland, in Australia, and New Mexico, in the USA, presenting at conferences, working with Principals and schools, and running study tours that focus on creating powerful learning relationships. Much of his world view has been influenced by contact with Indigenous communities, both in New Mexico and Far North Queensland. He believes in developing all members of every learning community; is an accredited educational coach and author; and is now working as an educational consultant.