Early years centres and service providers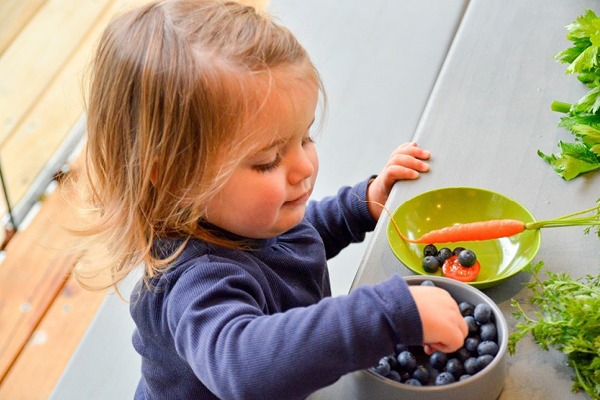 Play-based learning in the kitchen and garden
Everybody knows that young children love mixing, rolling, cutting, picking, digging and watering. Pleasurable food education provides the best start for children to learn through hands-on sensory experiences in the kitchen and garden. 
In a kitchen garden program, children learn:
useful skills in the kitchen like whisking and beating mixtures, combining ingredients, and folding pastries and rolling dough.
useful skills in the garden like planting and harvesting produce, transplanting seedlings, and watering and tending to herbs and vegetables as they grow.
Pleasurable food education easily links to all five outcomes of the Early Years Learning Framework.
Children develop a strong sense of identity in learning how to approach new situations, such as tasting new foods and flavours, with confidence.
Children have a strong sense of wellbeing when they use their senses to explore and respond to the world around them.
Children are connected with and contribute to their world when they begin to show concern for other living things, for example, by helping to make a bird bath for the birds in the garden.
Children are confident and involved learners when they mirror, repeat and practice the actions of others, such as learning to peel potatoes by carefully removing the skins with peelers.
Children are effective communicators when they respond verbally and non-verbally to what they see, hear, touch, feel and taste during cooking and gardening experiences.
The Kitchen Garden Early Years Project
In 2017 the Stephanie Alexander Kitchen Garden Foundation and The Ian Potter Foundation came together to explore how best to bring pleasurable food education to the babies, tots and toddlers of Victoria.
The three-year Kitchen Garden Early Years Project will develop a kitchen garden program model specifically for the early years sector.
The project will help the Kitchen Garden Foundation to cultivate even more expertise and strategies to bring fun, hands-on cooking and gardening to very young children.
Hungry for a taste?
Any questions? Contact our friendly Support Team on 13000 SAKGF (13000 72543) or support@kitchengardenfoundation.org.au
We are so excited to have our community garden beds up and running, full of yummy vegetables and herbs! We built the beds outside the front of our centre for everyone to use.

–        Jenny's Early Learning Centre, Maiden Gully, Victoria
Harvesting produce and picking herbs are highlights for the children. We encourage children to use their senses in the garden and to taste the produce.

–        Yarrunga Early Learning Centre, Albury, New South Wales