Belinda Adams from Coastal Hydroponics grows spinach for Coles in Nerang, Queensland and was recently put under the spotlight by students from Victoria's Auburn South Primary School. Find out all about growing and harvesting leafy greens, as well as how to manage pests and drought, plus Belinda's top pick of the leafy green varieties.
Harriet, age 8
Do these salad veggies grow flowers, like carrots, zucchinis and peas?
Some of our crops, such as rocket, do like to flower, and the flowers are bright yellow, but most of them are harvested before they get the chance.
Is baby spinach young spinach or a different type of spinach?
Baby spinach is a special variety that is grown to be small and easy to eat. There are many different types of baby spinach, even different varieties for each growing season – summer, autumn, winter and spring.
How are salad leaves harvested – by hand or special machines
There are harvested with special machines that shave along the tops of the plants removing just the small heads of each, the blades are very sharp, so it's just like a good haircut.
When is the best season to start growing salad plants?
We grow our plants all year round and we have to grow in different locations depending on where it is mostly warm all the time. The Queensland weather is perfect for growing plants during the winter, as our beautiful sun shines most of the day.
Akilan, age 9
Do you have any pest problems when growing your plants, and if so, what type of pesticide do you use?
Yes, we do get quite a few different pests that like to live in and around our crops. Some pests are good and are known as beneficials, others like to eat the plants and make little holes. We do have to use control pesticides at times, but limit this use as we need our good bugs to work hard.
What process do you use to clean the salad leaves?
We clean our salad leaves in big wash tanks, much like a big sink attached to a washing machine that bubbles, turns and pushes the salad through into the packing machine.
Do you use compost for growing your plants?
We use natural soil enhancers like compost in our crops, mainly what they call 'green compost', that is grown during the off-season and turned into the soil to improve its condition.
Grace H, age 11
How long does it take to grow all the veggies?
We grow veggies that only take around four weeks until they can be eaten. This means that we can turn our crops over quickly and need less land to grow on, making very good use of the land and soil.
Lexie, age 11
How often do you need to harvest?
We harvest almost every day. It is difficult to harvest with tractors when it is wet, so we watch the weather very closely and try to harvest before it rains.
How many people do you need to harvest at an average time?
On average we need six people to harvest, their jobs include driving tractors, stacking crates and inspecting the product.
How much waste do you have after the harvest?
Great news: there is no waste. Every plant we sow gets to be eaten as we only grow enough for our orders.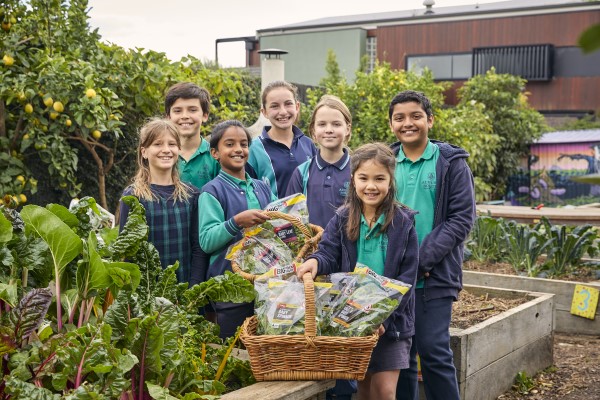 Esteban, age 11
Have the droughts affected growing Australian baby leaf blend, baby spinach, and spinach and kale?
This is a very important and challenging issue for the industry. We have not been personally impacted on our farms by the drought as we have a good supply of underground water. Lots of our growing community has been impacted in different growing regions, as water is integral for growing vegetables.
In what places are these varieties mostly grown?
There are a few different locations: in Queensland during the winter months we grow in Gatton and Bundaberg. During summer we grow in Victoria and Tasmania where it is cooler.
Which one of the Australian baby leaf blend, baby spinach, or spinach and kale are most popular with Coles customers?
Fortunately also my favourite: baby spinach is by far the most popular. I think Popeye got it right: it definitely is the best vegetable for your body and also tastes great too. 
What sustainability measures do you have? For example, what do you do with the crops and weeds?
Our sustainability ensures the longevity of our crop cycles; soil must be cared for and nurtured to ensure that we grow the very best plants. Water usage must be controlled and irrigation perfectly timed. Weeds need to be controlled to ensure that all crops planted are harvested to be enjoyed by everyone and limit waste.
< Back to Latest News