Dreaming big in Northern Rivers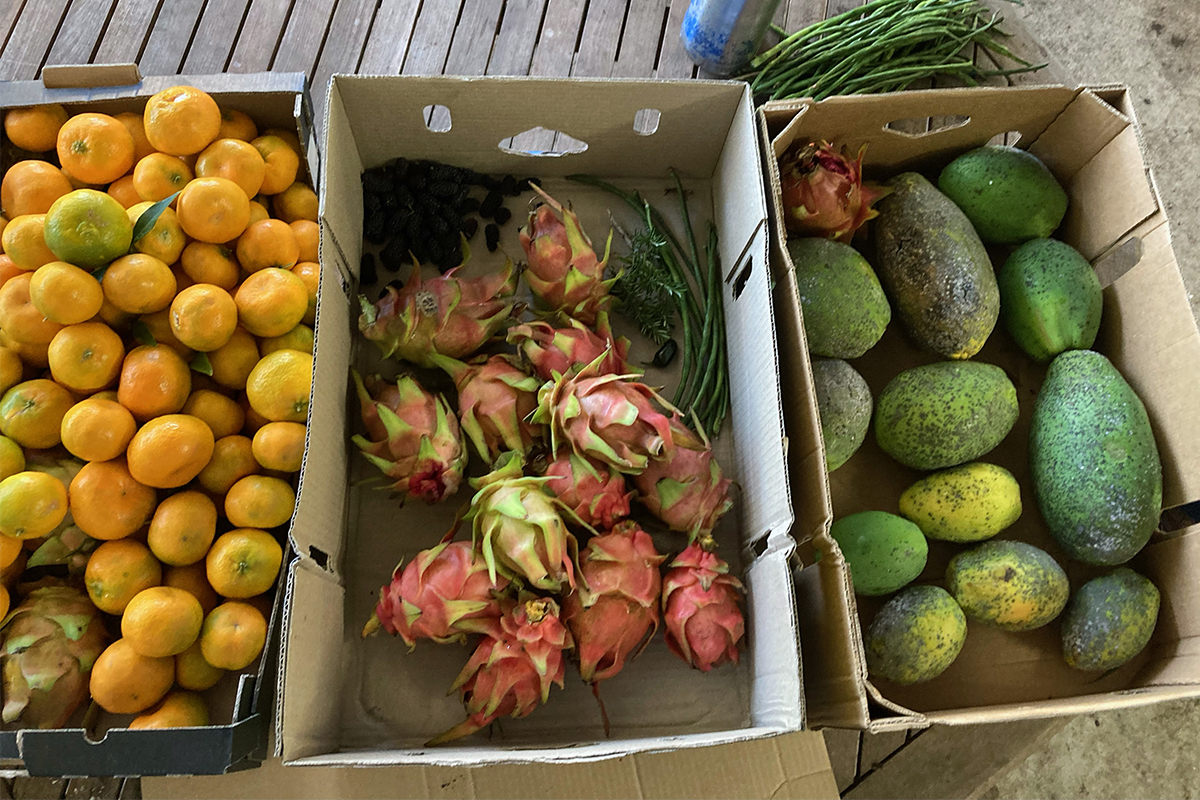 Tuesday, May 30, 2023
Foundation CEO Cathy Wilkinson and Kitchen Garden Program Manager Natasha Grogan were hosted by Southern Cross University recently to spend time in Lismore on Widjabul Wia-bal land as part of the Bundjalung Nation connecting with community, educators and researchers from across the Northern Rivers region. Read on as Cathy shares their learnings.
 
"As readers would be aware, Lismore and surrounding communities were devastated by unprecedented flooding events in 2022. Many schools were displaced – and some still are – with several now co-locating on the university campus. We have had a lot of interest from schools looking for ways to support their students and communities to strengthen engagement, wellbeing and resilience in the context of disasters, and we were lucky enough to visit several in the region.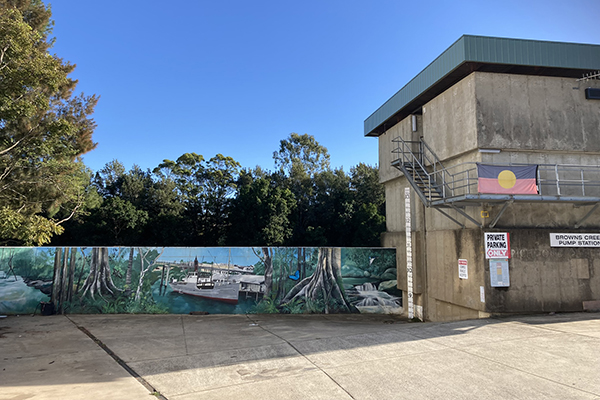 Car park next to the Koori Mail building, showing the 11-metre-high flood marker which the Wilsons River rose over
Woodburn Public School became a critical community hub during the floods, providing refuge and shelter for many weeks. They are looking to set up their own kitchen garden program to support children to reconnect with nature following the floods and to provide students, including those with additional needs, calm spaces to support learning. They already have some mature fruit trees, a yarning circle and their very own native beehive which was wonderful to see. Such great beginnings!
Woodburn Public School yarning circle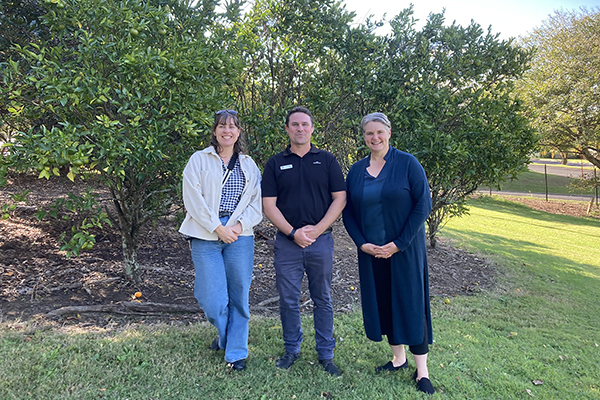 L to R: Kitchen Garden Program Manager Natasha Grogan, Woodburn Public School Relieving Principal Michael Lord, and Kitchen Garden Foundation CEO Cathy Wilkinson
The Living School has an on-farm campus with an emerging kitchen garden, from which the whole school runs on Fridays – a holistic approach to connecting children to nature and supporting learning by developing hands-on skills.
Numerous schools in Lismore have gardening initiatives underway and are keen to become part of the Kitchen Garden Program, to gain more support, connection and resources. For some it is through sustainability and environmental initiatives, and for one secondary school it was aligned to their agriculture program, and for another the wellbeing program. What they all had in common were incredibly committed teachers and inspiration to 'start small and dream big'!
It was wonderful to join community members at the Living Lab Northern Rivers, giving a public lecture on the role of community and kitchen garden programs in strengthening community resilience. The Living Lab is a joint project between Southern Cross University and University of Technology Sydney in partnership with the Northern Rivers Reconstruction Corporation. 

L to R: Living Labs Northern Rivers Design and Delivery Lead Megan Louis, Kitchen Garden Program Manager Natasha Grogan, Kitchen Garden Foundation CEO Cathy Wilkinson, Living Labs Northern Rivers Director Dan Etheridge, Southern Cross University Professor Jon Wardle, Living Labs Northern Rivers Community Engagement Lead Zerina Millard.  
We were given an incredible tour of the Southern Cross University's community garden, medicinal herb garden, herbarium and native food forest. We heard from the tertiary students how the community garden provides a great opportunity to connect and grow, harvest, prepare and share food. The lemongrass, dragon fruit, mandarins, mulberries and pawpaw were in plentiful supply. We saw tamarind pods, were shown how cinnamon is produced from the bark, and tasted davidson's plum.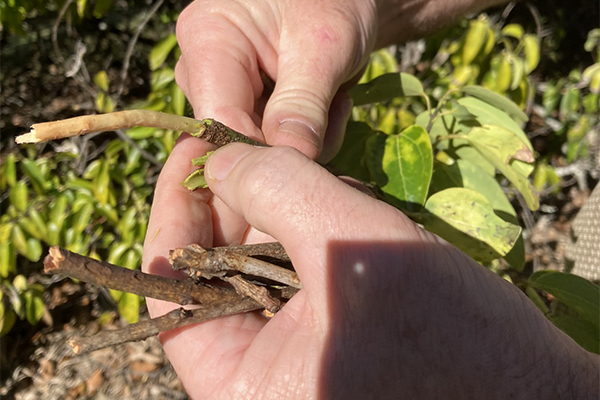 Cinnamon tree and bark
Connecting with different researchers from across Southern Cross University was insightful and we learnt about research and practice related to kitchen garden benefits, indigenous food systems and knowledge, national education sustainability curriculum, and therapeutic horticulture.
 
The Stephanie Alexander Kitchen Garden Foundation works alongside communities to support children and young people to form positive food, health, wellbeing and sustainability habits for life and to strengthen community resilience. We prioritise working in areas and ways that address structural inequities. Partnering with communities in regions like the Northern Rivers is a privilege and we look forward to strengthening connections and impact."
Help us reach more communities like Northern Rivers to collaborate and strengthen impact. All donations $2 and over are tax-deductible. 
Header image: Produce to share amongst volunteers from the Southern Cross Community Garden.
< Back to Latest News