Beneficial bugs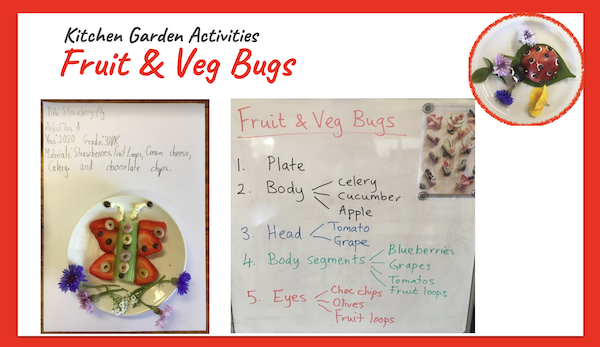 Wednesday, September 22, 2021
Yuki Cameron, garden specialist at Westgarth Primary School, is on a mission to prove that some pests are perfect for the garden.
With sustainability central to her whole life – she's involved in community permaculture initiatives, has milking goats, and she and her family ride bikes everywhere – Yuki was first introduced to the benefits of bugs by her entomologist sister-in-law Angelica.
Now Yuki is actively sharing her knowledge of insects within the school's kitchen garden program. She says she loves talking about good bugs with the children, with the first step being to reframe things: "Bugs: are they really all bad? What we often think as problems can be useful."
And so begins the talk of pollinators (think bees and butterflies), pests (like aphids, white fly, and caterpillars), and predators (ladybirds, lacewings and parasitic wasps…), and encouraging and using insects in our gardens: "We call this system biological control."
Yuki explains how play is great for learning in the garden, with the game, "Plants, pollinators and pesticides" a favourite. She describes getting the children in a big circle and asking for three volunteers to be pollinators, while everyone else becomes a plant. "Starting as a seed, they grow, uncurl their shoots, hold out their hands as flowers, and then the pollinators speed walk around with the 'plants', having to be touched by two different pollinators." Things get interesting when the classroom teacher acts as pesticide, "and the kids can see who does more: pollinators or pesticides", saying it really effectively shows how treasured those pollinators need to be.
Out in the classroom, insect-hunting is always fun. In terms of finding good bugs in the garden, late autumn and early spring are some of best times for "bug bursts" and Yuki suggests, "On the corner of every garden bed, plant something with more flowers, as an opportunity for pollinators, as well as beneficial bugs." Back in the classroom, they use petri dishes, little hand lenses or even bigger magnifying glasses to get up close to the insects. And sometimes the creepier the better for kids, like the brown lacewing or Cotesia wasp cocoons. Creepy but good!
"I like how our teacher Yuki includes us all and tells us actual facts about bugs. I also like when we're planting or helping out in the garden she tells us all about how to hold a certain tool the right way. It's really awesome when we research bugs and then get to draw them because I love drawing!' – Alvin Roberts, year 4, Westgarth Primary School
Courtesy of her entomologist sister-in-law, Yuki has great quality, close-up pictures of insects, which she's had done up as A3 posters for the classroom, as well as "good bug info cards" for ready identification. And to track and trace what they find: worksheets for matching the insect to its name.
Other times, she sends them outside with plastic containers to see what they can catch. The rules: "no catching bees and wasps; release anything you catch back into the garden; take care when catching delicate insects."
During remote learning, this activity has transferred to the children's own backyards and nearby parks, with them being asked to go on bug hunts and do some detailed bug identification and drawings.
A complementary kitchen activity is making a fruit and veg bug snack. Children are supplied with partially chopped vegies, cream cheese or hummus for "glue" and asked to create their own fruit and veg insects. They can also write up "exhibition" pages, with work going on display before an end-of-year feast.
Yuki suggests the perfect end-of-year lessons are a bug hunt, followed by a fruit and veg bug-making and eating celebration: "It's how we finish off our kitchen garden year:"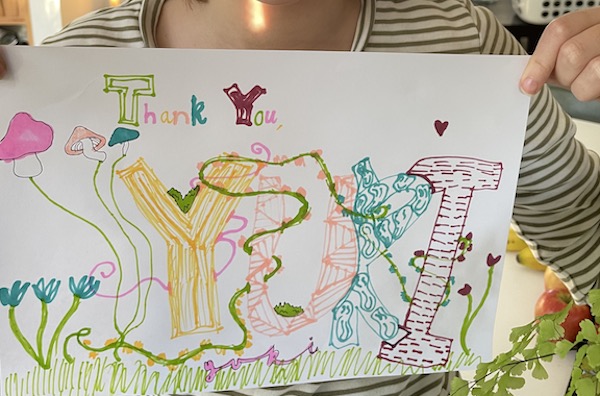 Yuki also shared her knowledge in an online professional learning session with the broader Kitchen Garden community in 2021, sharing some of her lesson tips, as well as background on integrated pest management. She talked attendees through some of the ways of developing a kitchen garden to allow some pests to thrive to then attract the beneficials, such as leaving some brassicas outside of netting to allow cabbage white butterflies to lay. And to draw the predators out, she noted some of the best host plants to allow to go seed to attract the pollinators and predators (e.g. alyssum, celery, coriander, cosmos, parsley, fennel, carrot, calendula), and those that are great for creating pest colonies for predators once they are at the end of their life cycle (e.g. apple leaves, cauliflower, cucumber, tamarillo).
Yuki also emphasised what most keen gardeners know: that the garden is an endless source of learning – and not just for kids. For educators wanting to know if they have a healthy insect population, it's all about curiosity, patience and observation: "You need to learn to identify, to observe over a couple of weeks...".
Visit the Shared Table to view Yuki's Beneficial Bugs presentation and activity cards.
Visit our Professional Development page to find more Program Enrichment Workshops like the one Yuki presented.
To read up on insects, Yuki's recommends the following reference books: Garden Pests, Diseases & Good Bugs and Backyard Insects.
< Back to Latest News