Building Healthy People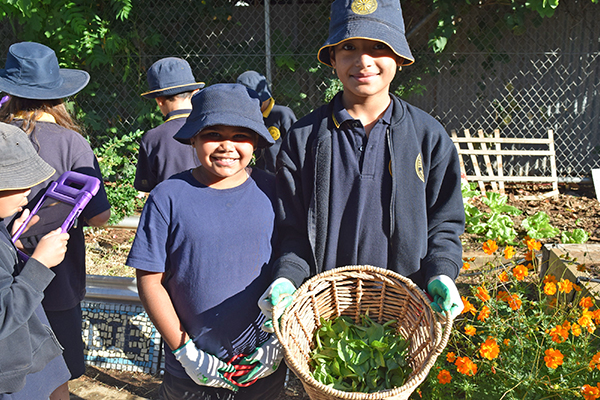 Wednesday, May 12, 2021
The Foundation recently had the good luck of hosting four Masters of Dietetics students from Monash University for a seven-week work placement. 
The purpose of the placement was an opportunity to put their public health nutrition knowledge into practice in a real-life setting, as well as to develop communication, teamwork, evaluation, and project management skills. And of course to provide us with some much-needed research and content.
On-site visits to Collingwood College, Altona Meadows and Mildura primary schools allowed a detailed look into the Kitchen Garden Program, with the purpose to analyse the benefits and barriers to running a successful program. This was backgrounded with a scoping literature review to see 'what works' and how the Program compares to other kitchen/garden/nutrition initiatives. The students also spoke with local government reps to see how kitchen garden programs can meet municipal objectives. The placements culminated in the beautiful video Building Healthy People – showcasing the many benefits of kitchen garden programs in schools and communities. Read on for more about the students' experience.
An enormous thank you to Claire, Hannah, Issy and Izzy from the Foundation team!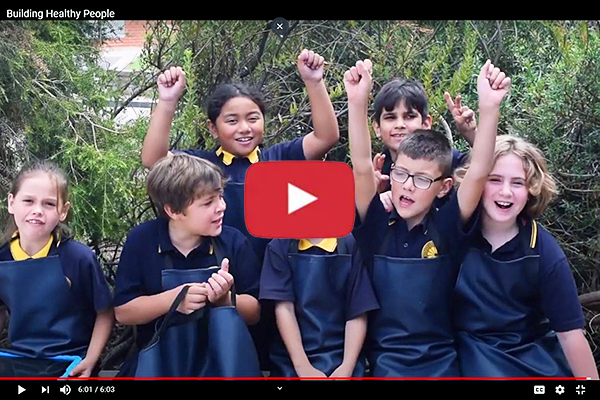 What made the Stephanie Alexander Kitchen Garden Foundation the ideal place for your university placement?
As dietetics students, we love everything about food; especially cooking and eating it. Undergoing our public health placement at the Foundation meant we could combine our passion for healthy food and nutrition with our passion for addressing the social determinants of health. As young adults, we are becoming increasingly environmentally conscious, so the eco-friendly aspect of the Kitchen Garden Program helped us strengthen our understanding of sustainable behaviours regarding food and food preparation. Sustainability in food systems has been a large component of our learning and it was really warming to see this in action in the Program. The cyclical, holistic approach of the harvest grown in the garden then used to make the dishesin the kitchen, practically demonstrated to us how we can be more environmentally-conscious with our food.
The Foundation staff were also perfect during our placement, as they supported us in any way possible, whether it was ICT support or engaging us in their community. Every staff member helped to guide us through our learning while also giving us the freedom to self-direct our learning, which meant we achieved everything we wanted to and more. The work the Foundation does is inspiring to us as budding dietetic students. 
How much did you know about the Foundation before you began your placement?
We were so excited to do our placement with the Stephanie Alexander Kitchen Garden Foundation – it's a household name for all of us and we've all cooked many of Stephanie's recipes in the past (our favourites are her banana bread, and silverbeet torte!). However, we definitely had no idea about the intricacies or extent of the Program. Seeing it in action was really eye opening for us. 
What did you learn about that you didn't already know?
Before starting our placement, we didn't really know why Stephanie Alexander created the Kitchen Garden Program in the first place. We discovered it was in an effort to provide hands-on food education for school-aged children to cultivate positive food behaviours, in an effort to curb the childhood obesity epidemic. We learnt how widespread the Program was, and how much time and effort went into delivering it effectively. We learnt how profound it could be in changing children's attitudes to food and building life skills that go outside the kitchen, like confidence, teamwork, and leadership. We got to see the tangible impact of an upstream approach to disease prevention, and how important these programs are in the healthcare landscape. We knew that the Program was being delivered at primary schools but had no idea that it has been implemented across early childhood and secondary schools. We are super impressed that the Foundation has expanded the Program to ensure children and young people of all ages can experience pleasurable food education. 
What was the most interesting thing you observed while on placement?
We were pleasantly surprised with the students' food literacy! During our visit to Collingwood College the students were asked to name each of the produce items on the harvest table. They correctly identified Vietnamese mint, successfully distinguishing it from regular mint – we thought this was particularly impressive as we couldn't tell the difference ourselves! It was also interesting to see that they could identify obscure foods or those that aren't commonly used, for example purple congo potatoes. 
What are the top two things you would now tell people about the Stephanie Alexander Kitchen Garden Foundation?
The biggest thing we took away from seeing the Program and the Foundation in action is how much the students love and appreciate the Program. All the students across all the schools were actively involved and excited about participating. 
All the Kitchen Garden specialists we interacted with were extremely passionate about their work and were very motivated to provide the best program possible for their students. They were all very warm and welcoming and embraced our presence in their programs. They went out of their way to provide us with additional resources and took so much time out of their busy schedules to help us with our research. 
How has your time at the Foundation influenced your thinking about public health?
More than anything, working with the Foundation highlighted to us how integral public health initiatives are in influencing the food behaviours of children and young people. The Program was a real, practical demonstration of an upstream approach to slowing the prevalence of chronic disease, and it was truly an invaluable experience. We learnt that core pillars of public health –  practice, co-creation, and community development – are absolutely pivotal to ensuring the efficacy and sustainability of public health initiatives, so it was really important and beneficial to our learning to include members from participating schools.
We can't thank our placement educator, Josephene Duffy, and Rachel Harington-Hawes enough for all the help and guidance they provided us over the seven week placement period. They were so attentive to our needs and gave us everything we needed and more to complete our work. It was a pleasure and an honour to work with such amazing people, and we are truly so grateful for the experience. 
Watch the Building Healthy People video.
< Back to Latest News