Coles and the Stephanie Alexander Kitchen Garden Foundation celebrate partnership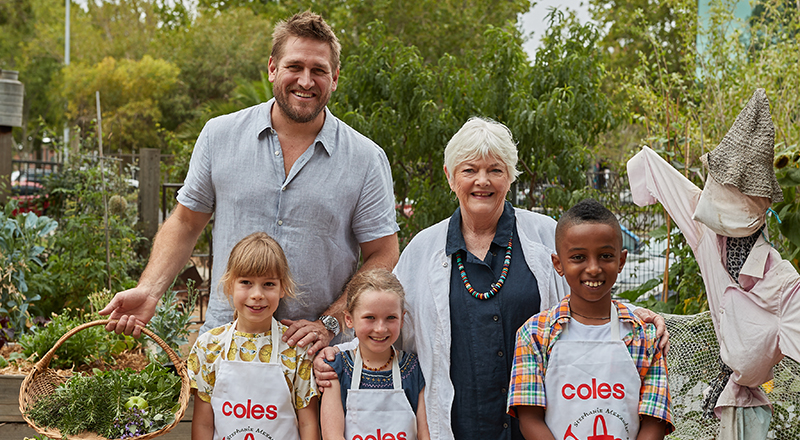 Wednesday, February 12, 2020
The Stephanie Alexander Kitchen Garden Foundation is proud and delighted to announce our new three-year partnership with Coles. Our partnership will help the Foundation continue to support the 2000 schools and centres already running a kitchen garden program, and make the program accessible to more schools and centres around the country. It will also allow us to extend our fresh food philosophy to thousands of Australian families and communities.
The launch of the partnership was held at Collingwood College, Victoria, the site of the very first Kitchen Garden Program. Very special guests Stephanie Alexander and Curtis Stone hosted the proceedings, while Collingwood College kitchen garden kids and parents showed off their harvesting and cooking skills.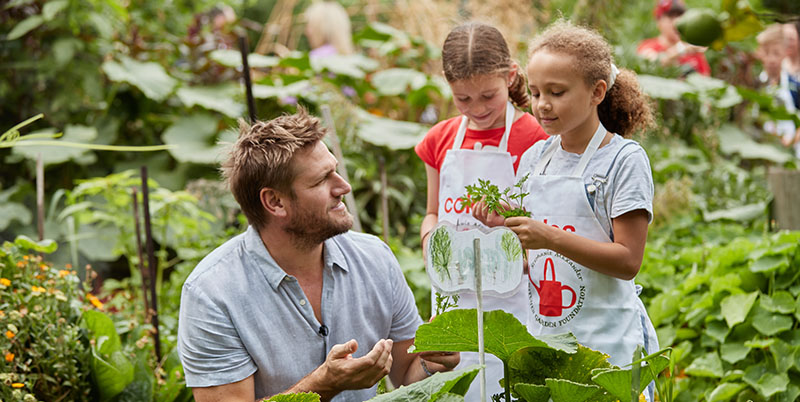 Stephanie Alexander AO, Founder of the Kitchen Garden Foundation, said "We are delighted that this partnership allows us to bring our fresh food philosophy beyond the school gate and further reach and engage families and communities. Together with Coles we want to encourage Australians to enjoy food in the most healthy and sustainable way."
The partnership announcement is in conjunction with a brand-new national healthy eating program from Coles, the Fresh Five Challenge. The challenge encourages their kids to enjoy a nutritious balanced diet by tracking the amount of vegetables, grains, calcium, fruit and protein they try each day using their five fingers as a guide.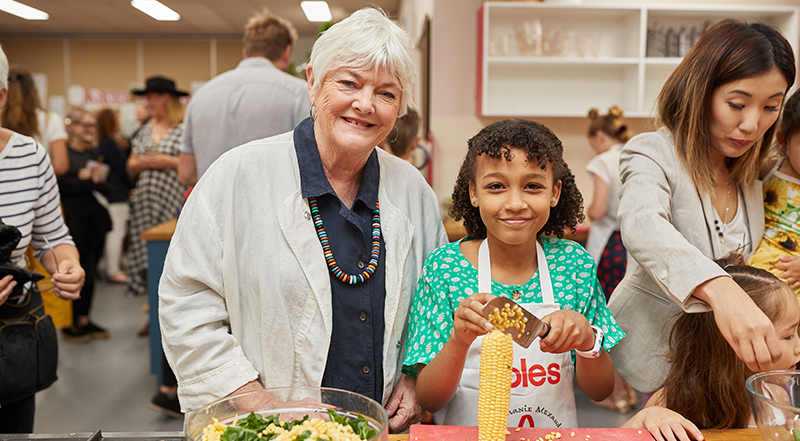 The kitchen garden kids at the launch got a taste of this, cooking up and sharing delicious fresh dishes including Roast Pumpkin, Chickpea & Sage Sausage Rolls; Seasonal Fruit Muffins; Silverbeet, Corn & Fetta Torte; Vietnamese Rice Paper Rolls; and Warrigal Greens & Ricotta Fritters.
Lisa Ronson, Coles Chief Marketing Officer, said the partnership was founded on a mutual desire to help Australian families lead healthier lives.
"The Stephanie Alexander Kitchen Garden Program teaches children to prepare, enjoy and love fresh healthy food, which is something we too are passionate about at Coles. We want to inspire our customers and bring them on the fabulous food journey by helping expand the program and ensure it reaches more families across Australia."
A huge thank you goes to the Collingwood College community for hosting the event. 
There are exciting things happening in Coles stores across the country to celebrate this announcement. Sign up to our newsletter at www.kitchengardenfoundation.org.au  to find out more.
< Back to Latest News