Coming together to Grow Cook Connect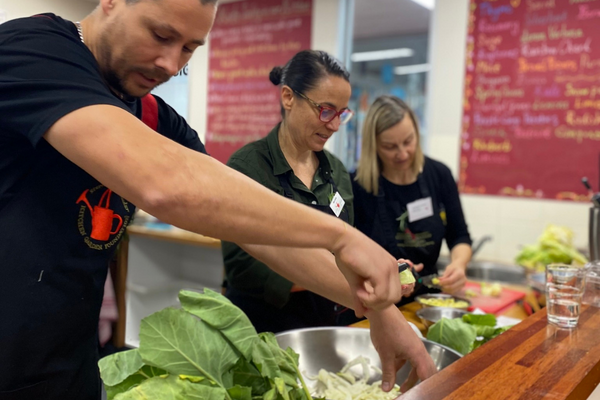 Monday, November 14, 2022
Together again, and it feels so good! It was a breath of fresh air to finally be in the same space as so many members of the kitchen garden community last week, as we gathered at Collingwood College for Grow Cook Connect, our first in-person professional development day since 2020.
The day started with a warm welcome from Foundation CEO Dr Cathy Wilkinson before a tour of the lush garden setting at Collingwood College – the original pilot school to establish the Kitchen Garden Program.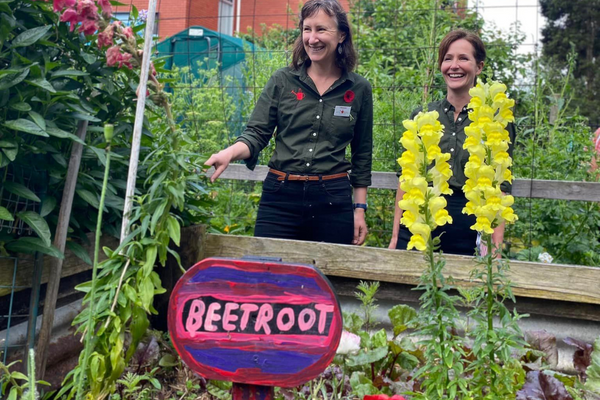 Exploring the beautiful garden at Collingwood College.
Once everyone had their bearings, participants were split into two groups. The first ventured outside to the garden to take part in a series of three workshops. The Foundation's own composting guru Natasha Grogan talked educators through the science of creating a healthy composting system, sharing ideas on how to make food waste feel interesting and relevant to children and young people.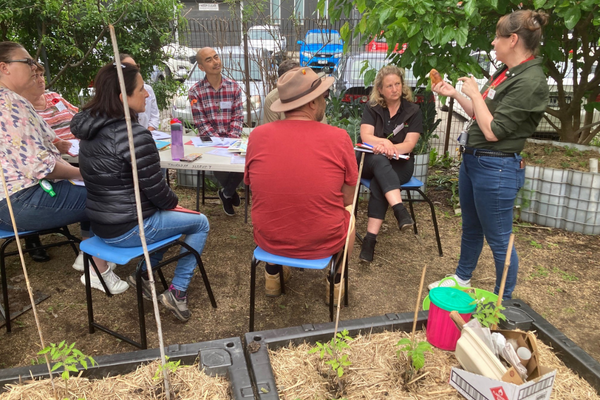 Tash sharing the secret to the perfect composting system.
Garden squad also got to take part in a hands-on lesson exploring how to maximise their harvest yield with the incredibly knowledgeable Julie Bennet. Julie is Produce Manager at Montalto, where she has tended to one of Victoria's oldest and largest kitchen gardens for more than 20 years – and was incredibly generous sharing her tips, tricks, and techniques for getting the most out of your plot, no matter the size.
Long-term kitchen garden educator Mary Giannakopoulos, who is based at Springvale Rise Primary School, gave attendees a lesson in how to grow mushrooms, and develop a fascinating fungi lesson plan.
Back in the kitchen, participants got busy kneading, boiling and baking up a seasonal feast. The Foundation's kitchen specialists Ali and Jess joined with guest presenter Betty Vassiliou (one of the longest standing kitchen garden educators ever, currently at Westgarth Primary School), to prepare a delicious spread. Together, they cooked up a feast including Spring Vegetable Paella (cooked in a massive, authentic paella pan); Broad Bean Falafel; Beetroot Borani Dip; Spring Tabbouleh with Cabbage, Kohlrabi and Radish; Warrigal Green Pasta with Warrigal Green Pesto; and more! All mopped up with sourdough bread from Phillippa's Bakery, and followed by a delicious cheese spread from Saputo Dairy Australia.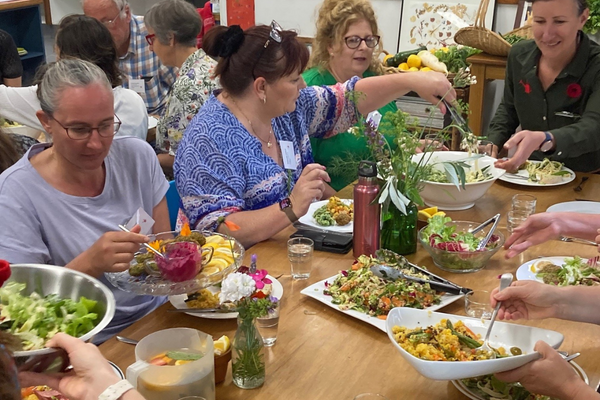 Sharing a meal together.
After so much time apart, this long-awaited return to face-to-face training was also a chance to reconnect with the kitchen garden community. We came together to share a table over lunch, took part in a group wellbeing activity, and swapped ideas, inspiration, and knowledge throughout the day.
"I loved everything. I loved chatting to everyone and learning to use a pasta machine. I loved hearing what everyone else was doing and feeling all the excitement in the room. The welcome was so warm, the lunch was unbelievable. I got to try raw artichoke for the first time. The falafel and beetroot dip was incredible. My colleague Josh is growing warrigal greens in the garden so we'll both be excited about that recipe. Meeting Stephanie was very inspiring. I wrote down a lot of ideas from my new friends."

– Feedback from a Grow Cook Connect attendee
Attendees also got the chance to meet and chat with Stephanie Alexander AO, familiarise themselves with our print and digital resources, and brainstorm intuitive ways to link what's going on in kitchen garden classes to the broader school curriculum and/or Early Learning Years Framework.
We were also grateful for the opportunity to showcase the benefits of our pleasurable food education philosophy to local government representatives, who came from councils right across Melbourne to see the Program in action on the day.
Finally, a big thank you to all the educators, experts, and SAKGF staff who contributed their time and knowledge, and to Collingwood College, for hosting us in your fabulous space. We can't wait to see you all again soon.
Follow @sakgf on social media and subscribe to receive emails from us to stay in the loop about upcoming professional development opportunities and hear an exciting announcement regarding training for 2023!
Can't wait that long? Sign up to take part in our last PD offering for 2022: a unique, online masterclass from one of Australia's most revered cooks, Stephanie Alexander, on Tuesday 22 November.
< Back to Latest News