The 20th anniversary of the Kitchen Garden Program is a great prompt to pause, reflect and celebrate a tremendous achievement, and acknowledge and pay respect to all the work, energy, thought and emotion that have given rise to this world-leading health and education movement.
From a single visionary spark led by Stephanie and shared by collaborators Anna Dollard and Frances Laurino, the program has ignited the imagination of thousands of people. Teachers, volunteers, families, those very special people who emerge from community to support their local kitchen garden program, and most importantly children, have helped shape and drive this innovative food education model. We know this program works, most importantly because educators, families and children love it.
This time also gives us pause to consider the next twenty years.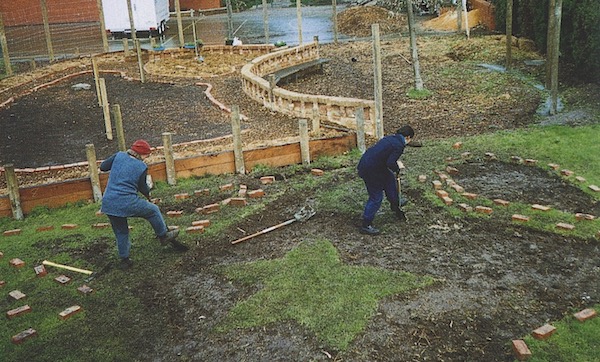 The first ever kitchen garden in the program taking shape at Collingwood College
Our Big Dream is for all Australian children and young people to have access to and participate in this life-changing program. We know every school and service is unique, with distinct needs, resources and communities. Therefore we continuously strive to ensure the program model is adaptable, accessible and affordable, so that it continues to respond to the needs and aims of communities all over Australia. Our wonderful team is constantly looking for new ways to inspire, share and shape knowledge, and support the kitchen garden community.
We also need the program to be seen as the serious public health response that it is. Yes, it is fun, and yes, we focus on pleasure as fundamental to engaging children and adults, and motivating them to come back for more. And yes, it has tangible, long-lasting positive influences on food behaviours, engagement with education, environmental practices, community building and social cohesion. As well as mental health, oral health, learning and work pathways, leadership and entrepreneurship, gender equality... we could go on!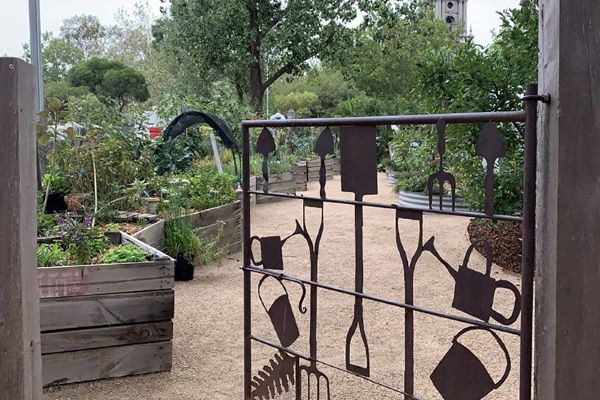 Since 2001, the Collingwood College garden has grown into a vibrant green space
The Kitchen Garden Program establishes in the most enjoyable way an appreciation of difference and an awareness of diversity. Students are introduced to the pleasure of sharing a meal around a table, a habit we hope will last throughout their lives. – Stephanie Alexander AO
This is a program that is multi-faceted, has powerful cross-benefits, creates sustainable, enduring change and is universal in appeal. It also takes work and resourcing. Schools and early childhood services need infrastructure and guidance. The Kitchen Garden Foundation team needs to be resourced to continue supporting them. Yet the return on investment is enormous.
As we emerge from the sudden pandemic, we need to re-look at the ongoing pandemic of childhood obesity, and the health and wellbeing challenges that are impacting our kids, exacerbated by the covid crisis. We want to contribute to covid recovery by leveraging pleasurable food education to rejuvenate and connect communities, building on the trend of home gardening and cooking as the cornerstones of lockdown life.
If you share this vision we invite you to get involved. There are many ways you can do this – from volunteering in a school or service, to promoting the kitchen garden program in your networks, to donating and supporting the Foundation. We'd love to hear from you.
– Stephanie Alexander AO, Founder; Amanda Coombs, Chair; Josephene Duffy, CEO.
< Back to Latest News