"Not only is a cookbook an engaging way of raising funds, it is also a wonderful record of the work performed by students in the Kitchen Garden Program, as well as the contributions made by friends and supporters of the school in the wider community." – Stephanie Alexander AO 
Kitchen gardens across the country are bursting with flavour and stories, cooking up delicious dishes every day. Some of those are new experiments, while others are tried and tested favourites. Capturing these creations in a cookbook is a brilliant way for a school or early childhood service to celebrate their Kitchen Garden Program and its community, while raising funds in the process. It can also help preserve the longevity of the program, creating a resource to refer to for years to come. 
The production value of school cookbooks spans the full gamut – from glossy, professionally designed picture books to a few photocopied pages spiral-bound in the school office. Check out these examples for inspiration.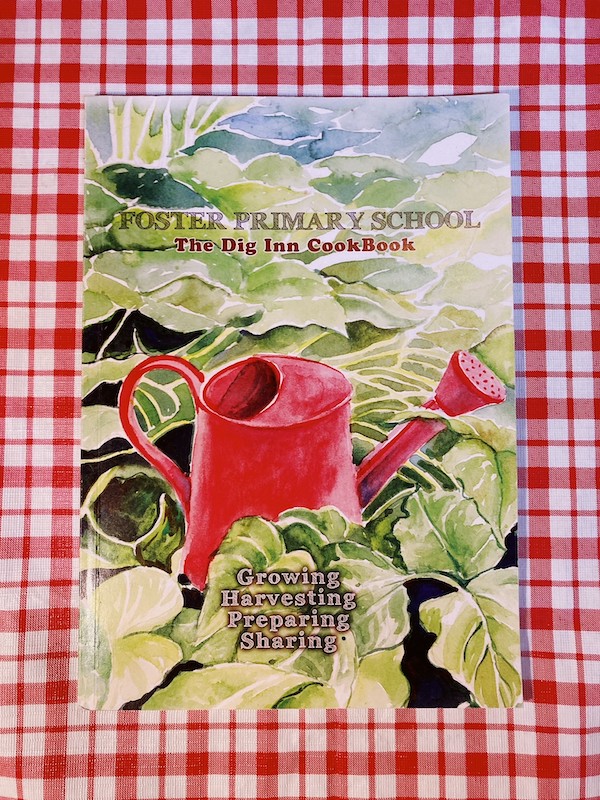 Foster Primary School
Foster Primary School's cookbook, The Dig Inn, is arranged around the seasons. It's beautifully illustrated from cover to cover, including drawings from local artist, Jane Frith. 
Some recipes in the collection evolved through experimentation with students and parent volunteers, "while others have been handed down from generation to generation and kindly donated for us to use in this book," explains Principal, Lorraine Gurnett in the introduction.
According to the contributing Kitchen Specialist, Rachel Sands, "The book aims to connect Foster Primary and its Kitchen Garden Program with its wider community. It aims to bring people together and celebrate the simple, joyful pleasure of harvesting, eating, and sharing." 
Snug Primary School
Snug Primary School's Kid's Kitchen is a glossy, high-production cookbook, sponsored by a local insurance firm and supported by a local publisher. It contains beautiful photos from the school's kitchen and garden program, images of fresh produce, and famous foodie quotes throughout. 
Recipes come from the school kitchen and contain great preparation tips, like advice on how to blind bake along with serving suggestions and comments from the families who contributed recipes. 
 Sunshine North Primary School 
Sunshine North Primary School presents 17 menus in this spiral bound cookbook, pairing complimentary flavours and showcasing each dish with photos of them being prepared by students. 
"Our menus are driven from what is planted, nurtured and harvested from the garden and finally prepared to share in the kitchen," Kitchen and Garden Educator Michelle McCabe explains in the foreword. "All our recipes are tried and tested by our students; they are aimed to instil a love of cooking with fresh organic produce." 
What makes this cookbook unique is its detailed gardening tips, student reflections, and quotes from valued volunteers. There is a comprehensive guide to common garden herbs, including flavour profiles, growing instructions, and cooking tips. There's also a section detailing interesting ideas for kitchen garden projects – including a diagram with instructions explaining how to build your own wicking bed.
"The garden section of the book will give you insight into creating a cost effective and environmentally sound kitchen garden to enjoy with your own family, friends, and community," says Ms McCabe.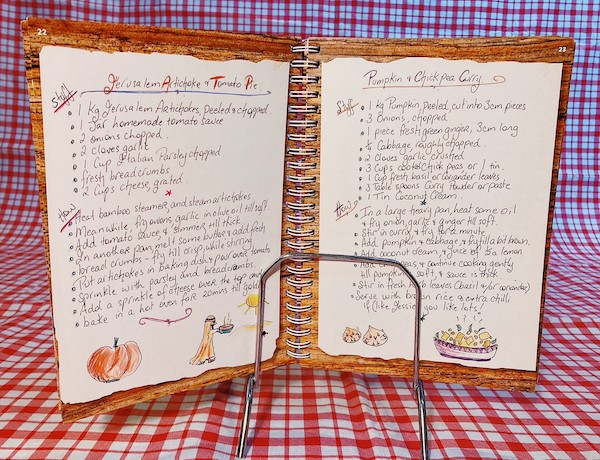 Elizabeth Downs Primary School
This offering, titled A Wander Down the Garden Path, brings together hand drawn recipes and illustrations with seasonal gardening tips and photos. It also has tips on how to design a productive, sustainable garden, and ideas for DIY kitchen activities, like how to dye your own easter eggs.
Money raised from sales of the booklet go back into the program – to keep students growing and cooking.
Whitehorse Primary School
Whitehorse Primary School takes us on a journey through the seasons with this cookbook, featuring tips on what to grow, harvest and cook. Recipes come from family submissions and the Kitchen Specialist's own collection, peppered with feedback and tips from students and their families. 
The school's Garden Specialist contributes valuable gardening tips, like the perfect time to harvest your summer tomatoes, the best way to pick strawberries, and answers to tricky questions, such as 'when's the right time to harvest watermelon from the vine?'
The thing that really makes this cookbook special are its beautiful illustrations, created by students in art class. The final product was lovingly designed by members of the Whitehorse Kindergarten family. 
"There are sure to be many old favourites included in this collection, as well as new and interesting dishes to intrigue and delight the reader." – Stephanie Alexander AO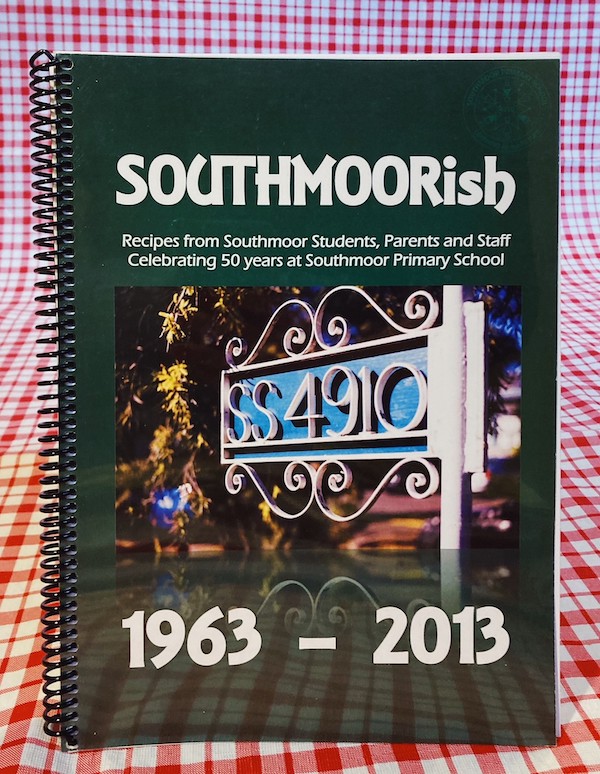 Southmoor Primary School
Southmoor Primary School's cookbook, Southmoorish was compiled in celebration of the school's 50-year anniversary. It contains a whopping 280 recipes, submitted by staff, parents, grandparents and students, including delicious sounding dishes such as Miss Thompson's Favourite Spinach and Gorgonzola Risotto, and the Staff Soup Club's Roasted Pepper and Mascarpone Soup. 
The cookbook, sold as part of a fundraising campaign, was made possible with the support of parents and sponsored by local businesses. 
"It is a cookbook that will remain in your family and provide a rich source of memories of your time at, or association with, Southmoor Primary School," says Principal Marie Kick in the foreword.
Riddells Creek Primary School
This spiral-bound cookbook brings together colour print outs of a selection of recipes proudly chosen, prepared, tested, styled and photographed by students at Riddells Creek Primary School. 
Every recipe includes student reviews (the broccoli pasta was a hit!) and illustrations. There are several double page spreads featuring photos from students in the program, including student highlights, laid out like a yearbook at the back of the book.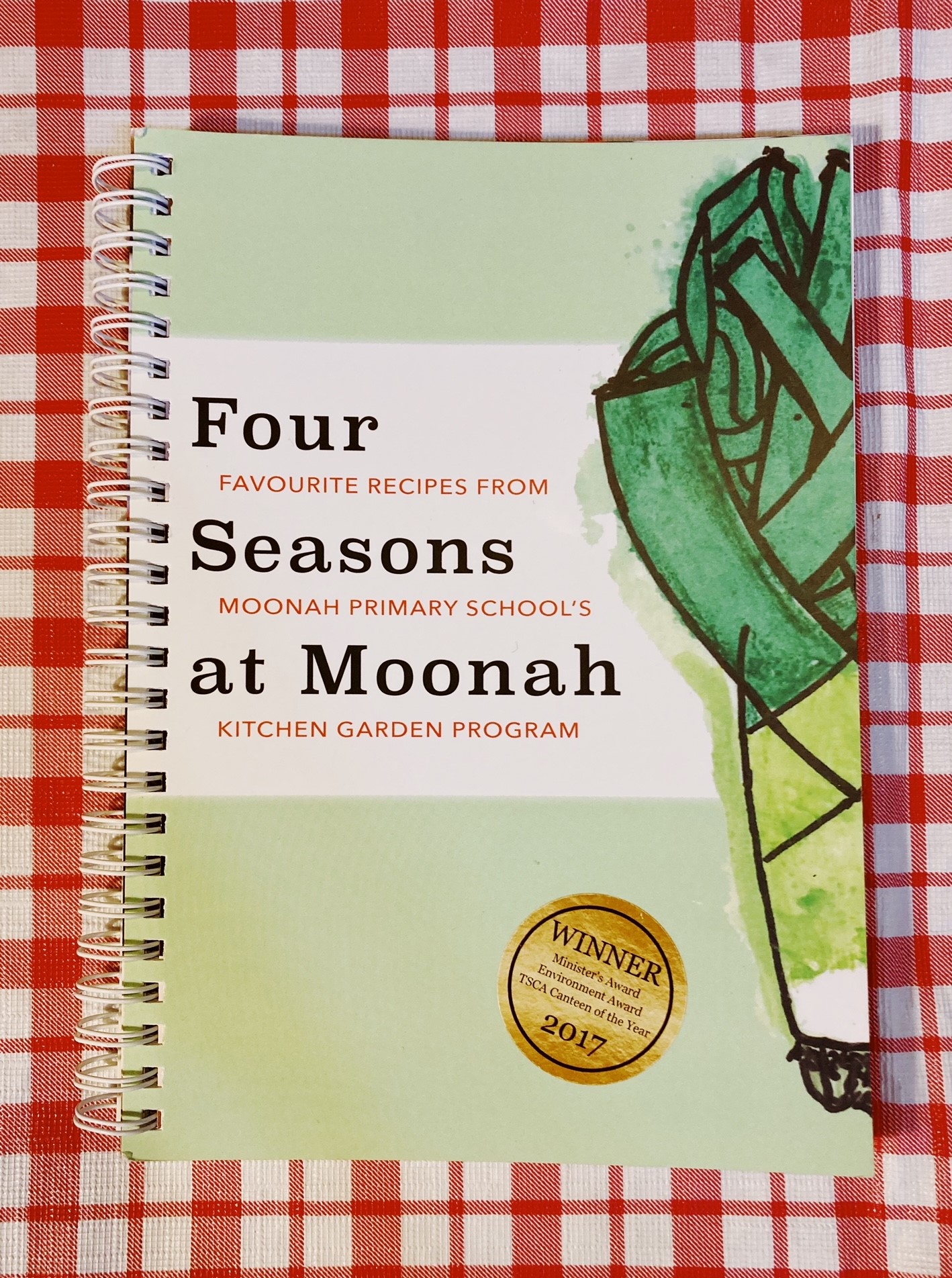 Moonah Primary School
Four Seasons at Moonah contains seasonal planting and harvesting advice, colourful student illustrations of fruit and vegetables, and 90 recipes from the school's Kitchen Garden Program, featuring a huge collection of dips, soups, breads, and salads to go along with the mains. 
There are some pretty unique recipes included in the mix, for special sounding dishes like Wasabi Popcorn with Nori, Lemon Myrtle Coconut Soup, and Pear and Radicchio Risotto – yum!
The books were sold for $20 each from the school office – the perfect gift for friends and family.
 Looking to create your own school or service cookbook? Check out our guide on the Shared Table to get started.
We've also created resources designed to help you seek additional funds to set up or run the Kitchen Garden Program, with information about sponsorships, partnerships, donations, grant resources, and plenty of great fundraising activity ideas.
< Back to Latest News