The Foundation is very excited to launch our latest educational resource Step-by-Step Visual Cooking and Gardening: Accessible Recipes and Garden Activities.
Designed to be accessible to every student, no matter their background, experience, level of literacy or level of ability, this publication makes it easy for students of different ages and skill levels to visualise the steps involved in each activity.
By setting out how to grow, harvest, prepare and share fresh, seasonal, delicious produce, Step-by-Step Visual Cooking and Gardening encourages students to develop life skills and make positive choices about what to cook and eat. It aims to increase student wellbeing and self-esteem, and provides a hands-on understanding of literacy, numeracy, science and so much more.
Using easy-to-follow language displayed in a big font and illustrated with clear, full-colour photographs, this publication provides simple step-by-step instructions for 12 recipes and 12 garden activities.
The recipes and garden activities have been carefully chosen for their practical application and are accompanied by identifying photos of ingredients and equipment, as well as tips and handy hints throughout.
The publication comes with a free PDF edition that is designed for use with digital text-to-speech readers, making it suitable for supporting students with visual impairment as well as those from culturally and linguistically diverse backgrounds.
Download a sample of Step-by-Step Visual Cooking and Gardening.
Purchase your copy of Step-by-Step Visual Cooking and Gardening from the online shop today.
These images and the videos below provide a taste of what's inside the covers of Step-by-Step Visual Cooking and Gardening.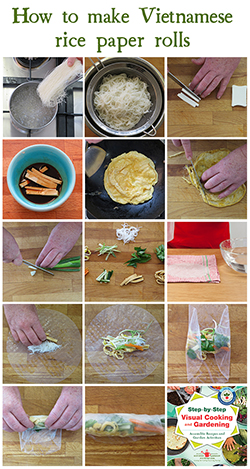 < Back to Latest News