Pasta Masterclass with Saputo Dairy Australia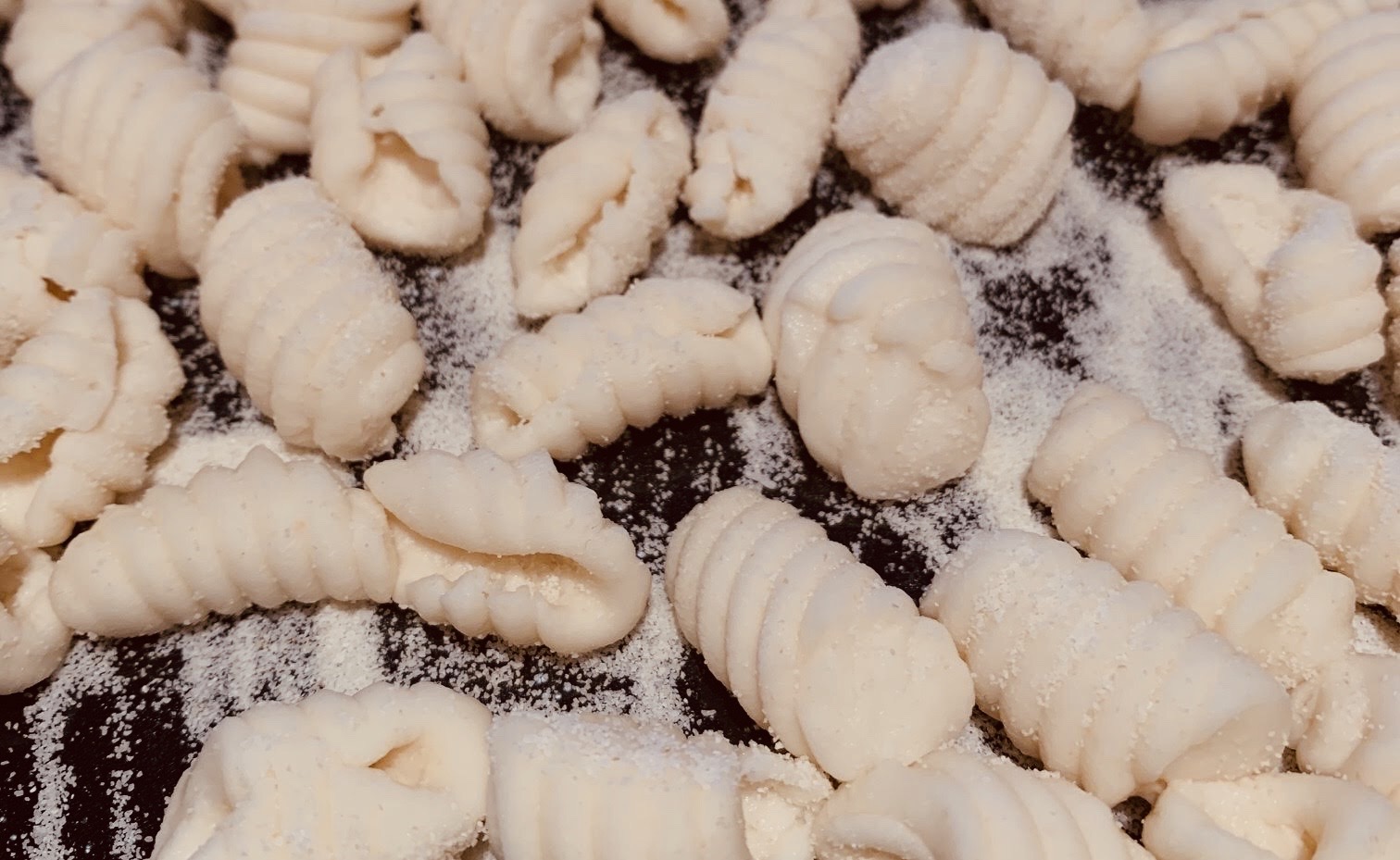 Wednesday, September 9, 2020
On a chilly August afternoon we had the pleasure of presenting a handmade pasta masterclass to the team from our Professional Development Partner Saputo Dairy Australia
Sam, one of our incredible Support & Delivery Officers here at the Foundation, took the team at Saputo through several of her favourite shape and sauce suggestions. Handmade pasta is an extremely delicious reminder of how much we can achieve using only our hands, no matter our age or experience in the kitchen.
Program and member schools and services can find many of the recipes below on the Shared Table.

What we learnt from the pasta masterclass
Sam used a semolina pasta dough, which also has the benefit of being egg free! Participants were shown the texture of dough to aim for and how to troubleshoot their way to pasta perfection. Sam reassured us that "making dough is a really relaxing thing to do at the end of the day. The only motivation you need is to get through 8 minutes of kneading." A good guide for pasta dough quantity is to use 100g of flour per person. If the dough is too wet, lightly sprinkle some more semolina and continue to knead, or if it is too dry, slowly add more water. Semolina is a lot harder than some flours to knead, but the reward outweighs the effort. Sam took the Saputo team through several variations of hand-rolled pasta with sauce suggestions to match.
We first learnt how to form capunti from the Puglia region in Italy, which has a distinct shape resembling an empty pea pod. Indents are created by pressing down firmly on the dough and pulling away to leave three little places where peas would have been; the perfect space to capture some delicious sauce. The dough is divided into manageable pieces and formed into cylinders, before rolling into long thin sausages roughly 1cm in diameter. When stretching out, the gluten can cause the dough to spring back. If we let it rest, we allow the gluten to relax so we can stretch the dough further. When forming shapes, use a clean, dry surface, not a floured surface, so that the pasta can curl back on itself. Sam cupped her hands and rolled them together and then like magic a pea pod appeared. This is the signature move of capunti. From there we press down firmly and pull away with three fingers to form the pea pod. The capunti was served with fennel, peas and feta.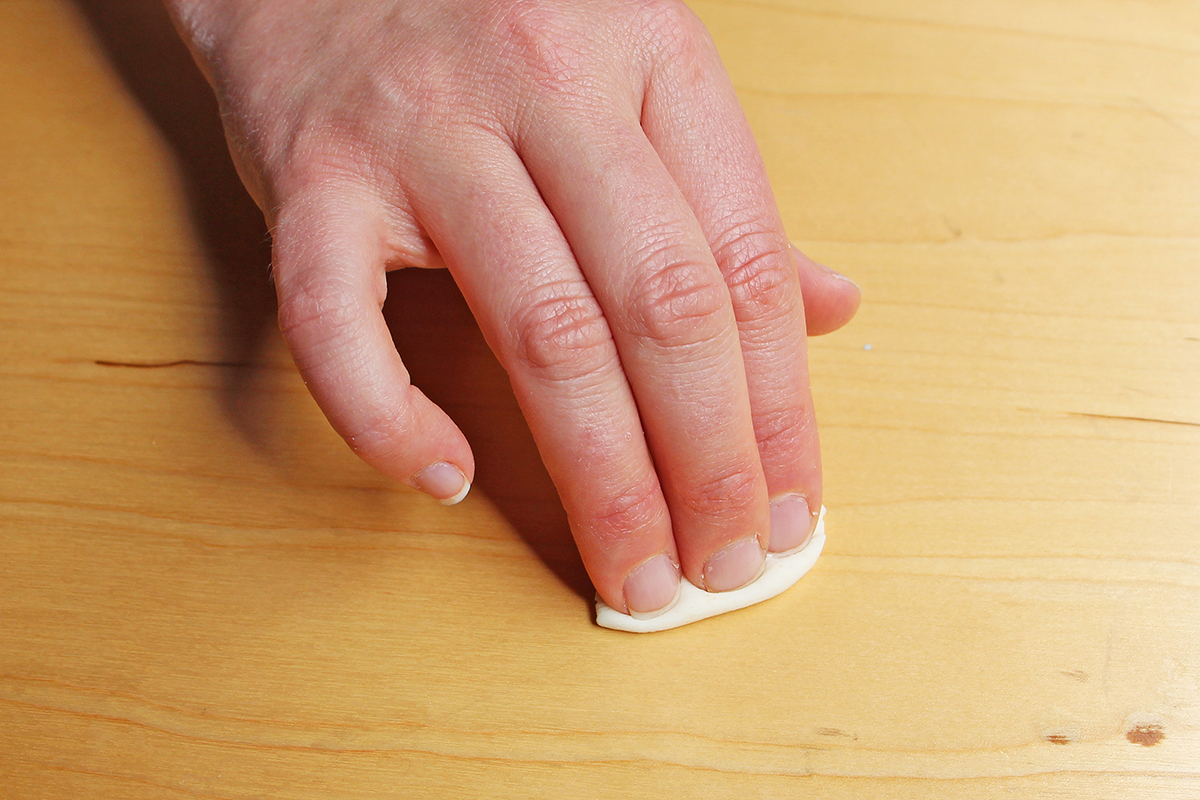 Found in Southern Italy, cavatelli, literally meaning 'little hollows' are another great handmade pasta for holding sauce. Again, roll the dough into 1cm sausages. This time cut the dough into 1cm pieces and gently press each piece with two fingers, dragging the dough back towards you. Serve with a simple tomato and garlic sauce for a delicious dinner.
Resembling little gnocchi, gnochetti sardi, also known as Malloreddus, are from Sardinia. For this demonstration Sam used a dedicated board for adding texture to the pasta. However, in the absence of a board there are plenty of surfaces, perhaps already in your kitchen, that make for a great substitute including a grater, microplane or even a fork. Sam paired the gnochetti sardi with a pesto and suggested to experiment with seasonal leafy greens to form the base of your pesto.
The name of the classic pasta shape orecchiette means 'little ears'. Originating from Puglia, Italy, it is formed using your finger or a butter knife to roll into the signature little ear. Sam's orecchiette was served with an asparagus pesto, making use of the plentiful greens in season.
We finished off by marvelling at macaroni, dubbed "home-style macaroni to take the pressure off," by Sam. Served with a burnt butter sage sauce with fresh baby spinach and pine nuts mixed through with some pasta water and shaved parmesan on top. Pasta water helps emulsify and add thickness to your sauces.
This was then capped off with a Q&A to solve all of Saputo's pasta puzzles and hopefully some of yours too.

How long do you cook your handmade pasta for?
A general rule for fresh pastas is that you wait for the water to come back to the boil and they will float to the top. Scoop them out with a slotted spoon and scoop straight into the sauce that you've made.
How do you store your pasta?
Once you have created your pasta shapes, the best way to enjoy them is to cook in boiling water straight away. If not put them on trays lined with baking paper and scattered with semolina, in single layers, in the freezer. Once frozen move them to an airtight container and back into the freezer. Cook fresh pasta from frozen.
We thoroughly enjoyed working with Saputo Dairy Australia to deliver a fun learning and team building opportunity. We will be offering a variety of professional development webinars for the kitchen garden community too! Keep an eye on your inboxes and the Foundation's social media for updates. Find us on Facebook and Instagram.
If you would like to learn more about the Stephanie Alexander Kitchen Garden Program and the professional development we offer including webinars, please contact our Support Team on 13000 SAKGF (13000 72543) or support@kitchengardenfoundation.org.au

< Back to Latest News