Plant the first seed of a kitchen garden program
Would you like your child or community to discover the benefits of growing, harvesting, preparing and sharing fresh, seasonal, delicious food? You can help plant the first seed of a kitchen garden program at a school or early learning centre in a few simple steps.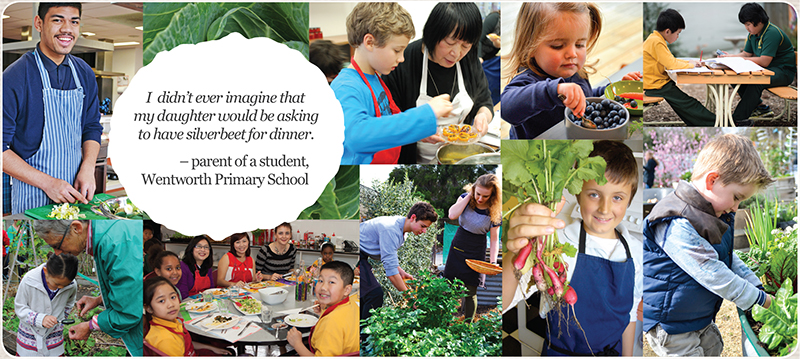 Do you have a question? Call 13000 SAKGF (13000 72543) or email support@kitchengardenfoundation.org.au
Step 1: Discover the benefits of a kitchen garden program
There's heaps of information about the benefits of pleasurable food education on the Foundation website. Here's a few links to get you started:
Step 2 : Get in touch
The Foundation is here to help all schools and centres get a kitchen garden program off the ground. Here's a few ideas for getting started:
Step 3: Start a conversation
Start talking to anyone and everyone, such as teachers, parents and community members, about the benefits of a kitchen garden program. Once you have a groundswell of support, present your ideas to the school or centre leadership. The Foundation has some great tips on how to make your presentation a huge success.
Step 4: Get the ball rolling
You'll be amazed at the support you can generate for a kitchen garden program once you get the ball rolling.
Remember – each school and centre designs a kitchen garden program to suit its own needs. Questions about how the program will be staffed, what infrastructure is required, which year levels will participate, and how often classes will run are for the school or centre to decide, but you can plant the first seed!
Any questions? Contact our friendly Support Team on 13000 SAKGF (13000 72543) or support@kitchengardenfoundation.org.au