Primary schools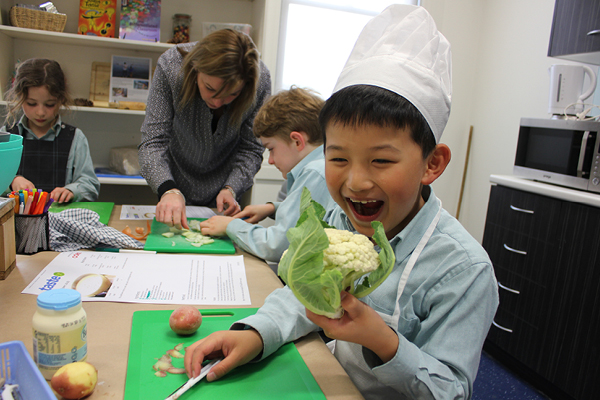 A 'just do it' attitude motivated Stephanie Alexander to launch the Collingwood College Kitchen Garden pilot program in 2001.
A lot has happened since then and the Stephanie Alexander Kitchen Garden Foundation is now supporting hundreds of primary schools of all sizes to deliver pleasurable food education.
These schools are achieving big things, even on small budgets.
Benefits for children
Through a kitchen garden program, children learn:
positive food habits for life
about their natural environment, the seasons, and how to care for gardens
practical skills, from recycling, composting and preserving to budgeting and fundraising
life skills, such as cooperating, sharing, critical thinking and leadership
by doing and having fun (they don't even realise they're learning)
to be engaged, especially those who face barriers learning in the traditional classroom environment.
Links to the curriculum
There are countless opportunities for embedding pleasurable food education into the curriculum. Kitchen garden learning can be integrated with learning requirements – from measuring garden areas and perimeters in mathematics to exploring seed growth in science, developing procedural text through recipes and sharing cultures through menus and celebrations. Learn more.
A kitchen garden program can also support wellbeing programs, cross-age tutoring between students, inquiry learning, project- or problem-based learning and interdisciplinary approaches, such as STEAM.
Benefits for schools
Kitchen garden programs give schools:
practical skills for growing and preparing fresh, seasonal, delicious food
a hub for community engagement as educators, families, students, business owners and others from the community come together to share food, learn and have fun
an understanding of the importance of food systems, food security and sustainability
opportunities to recruit volunteers to develop healthy, secure school communities.
Hungry for a taste?
Any questions? Contact our friendly Support Team on 13000 SAKGF (13000 72543) or support@kitchengardenfoundation.org.au
Each week after kitchen and garden classes, students undertake literacy and numeracy follow-up activities, such as writing procedural texts, writing narratives based in the kitchen or garden, identifying origins of food from around the world and drawing maps of the garden.

– Louisa Carey, Program Coordinator, Hallam Primary School, Victoria
Today we made bread rolls, baba ghanoush and dukkha. My favourite part was baking the bread rolls because of the smell when it came out of the oven. The taste was like what it feels like when it is your birthday. I felt like my group did a great job and got everything done. I wouldn't change anything! 

– Blair, student at Margaret River Primary School, WA