A Q&A with MasterChef's Courtney Roulston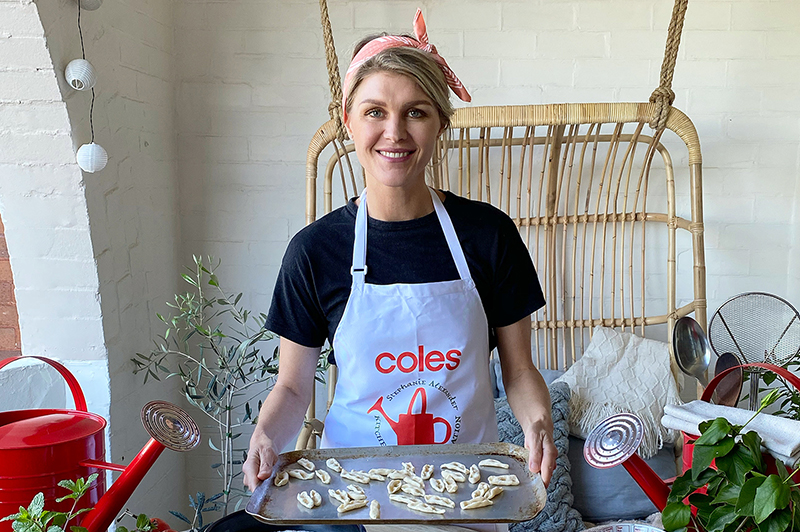 Thursday, May 14, 2020
MasterChef favourite, Courtney Roulston has been cooking up a storm with the Foundation's recipes for our KGP at home collection. With our Community Partner Coles, we developed these recipes to support the kitchen garden community while learning remotely, as well as for Aussie families to cook at home. We hope that everyone is enjoying cooking along with Courtney; as well as Stephanie Alexander, Michael Weldon and  Colin Fassnidge; and Dan and Steph Mulheron from My Kitchen Rules.
The Foundation team's children were burning to ask Courtney some hard-hitting questions.
Fraser, 7
Is there a food that you didn't like as a kid but love now?
Hi Fraser, Yes Oysters! Growing up my parents bought oysters every week from an oyster farm that was just around the corner from our holiday house on the South Coast of NSW. I was the only one in my family that didn't like the slimy salty texture, even though my parents tried desperately for me to try them, I used to spit them out. I decided to try them again when I was about 25 and found I really liked them. Freshly shucked oysters are now one of my absolute favourite things to eat!
Duncan, 10
What started your love of cooking?
Hi Duncan, We were lucky enough to grow up on a large property in the Western suburbs of Sydney. The house had peach and lemon trees planted when we moved in. My dad helped us plant a really big vegetable patch also, in which we grew our own corn, tomatoes, garlic, capsicums, zucchini, pumpkin, cucumbers, passionfruits and peas. I would always water the plants and pick whatever was ready to eat when I got home from school and we would create dinner that night from what I had picked.
I loved getting creative with recipes and cooking with fresh produce. Our holidays were also spent catching prawns, fish and crabs down on the South Coast of NSW, so harvesting and cooking was just a way of life for me growing up - I just love cooking and eating food!
Lily, 12
What dish are you most proud of from your time on MasterChef?
Hi Lily, I found myself in the first elimination and I really didn't want to be the first contestant to go home. I decide to cook a cauliflower steak with a charred harissa sauce, cashew cream and pickled fresh currants. The judges loved it and I was really happy that I got to showcase that vegetables can be exciting to cook with and eat.
Frankie, 13
What did you learn on MasterChef?
Hi Frankie, I learnt lots of new cooking techniques and recipes, mostly from all the other contestants. I learnt how to make a really tasty hot sauce with habanero chillies and fresh tomatoes. I have made it about six times since being home.
Hugo, 16
I got some chestnuts in my fruit and veg delivery box this week, how should I prepare them?
Hi Hugo, There are a few different ways to prepare them, but the easiest at home is to roast them in the oven.
Set the oven to 200 degrees C. Cut a cross in the flat side of the chestnuts. Place on a baking tray and roast for 25 minutes. Wrap them in a clean tea towel to cool then peel the skins off. From there you can cook them down in milk and make a smooth puree, cut them up for salads or you can toss them in a pan with some butter and sea salt and eat them as a snack.
Louis, 15
What is Gordon Ramsey really like?
Hi Louis, Of course when we were cooking in the team challenges, he was a little scary, but when we were not cooking he was actually really nice. He has wonderful knowledge of food and cooking and is happy to share and offer help when he can. He has a great sense of humour and soft side that usually doesn't make it onto his TV shows.
Sidney 12
What's the weirdest thing (ingredient) you've ever cooked with?
Hi Sidney, I cooked with Boab (an Australian native ingredient) in the pressure test on MasterChef and I had never seen anything like it before. It was the size of a tennis ball with a really dry white firm powdery texture and large black smooth seeds in it. We used it to season prawns after they were cooked over coals.
< Back to Latest News