Secondary schools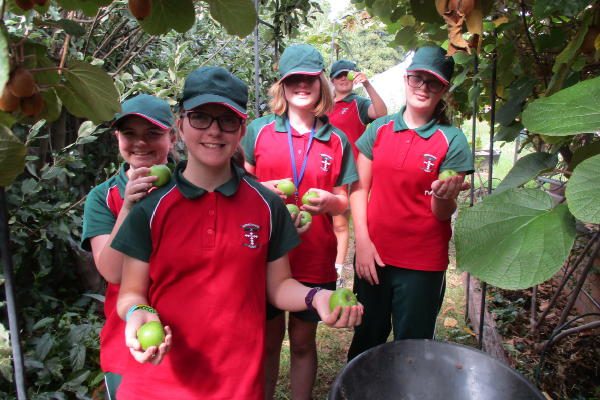 Curious about how the kitchen garden program running in the primary years could translate to secondary students? So are we.
Due to popular demand and the growing number of students from primary schools with kitchen garden programs transitioning into secondary schools, the Kitchen Garden Foundation is now exploring approaches for implementing a kitchen garden program in the secondary years.
Secondary schools kitchen garden project
In 2018 the Stephanie Alexander Kitchen Garden Foundation, supported by the Young Health Programme, launched a new project to develop the first curriculum-integrated kitchen garden program model for Australian secondary schools.
The secondary schools program model will extend and continue the learning of students who have taken part in a kitchen garden program in primary school. It will also expand the reach of pleasurable food education to students who didn't have the opportunity to be part of a kitchen garden program at primary school.
The three-year project will help the Kitchen Garden Foundation support educators in cultivating even more kitchen garden expertise and strategies, tailored to the needs of secondary schools.
For more information on the Secondary Schools Kitchen Garden Project contact Maria Pokorny on 0415 741 536 or maria.pokorny@kitchengardenfoundation.org.au
Benefits for students
Teaching students to grow, harvest, prepare and share their own fresh, seasonal, delicious food is proven to have a positive impact on the food choices they make.
Through a kitchen garden program, students learn:
positive food habits that last a lifetime
about their natural environment, the seasons, and how to care for gardens
practical skills, from recycling, composting and preserving to budgeting and fundraising
life skills, such as cooperating, sharing, critical thinking and leadership
by doing and having fun (they don't even realise they're learning)
to be engaged, especially those who face barriers learning in the traditional classroom environment.
Hungry for a taste?
Any questions? Contact our friendly Support Team on 13000 SAKGF (13000 72543) or support@kitchengardenfoundation.org.au
We have been making links to science by doing experiments and exploring topics such as how things grow, lifecycles, and mixing ingredients together. Students are developing new vocabulary by reading recipes, and making signs and word walls. We are moving to a design and technology focus by getting the students to plan and design different garden areas around the school.

– Natasha Trestrail, teacher, Kaurna Plains School, South Australia