Beating summer – and often a lengthy break – in a school or service garden can be a challenge. But with a little bit of preparation, produce can be saved from the elements and pests, and an inviting space can be there when you return from a hard-earned break.
We spoke to three kitchen garden educators for their tips like preparatory work, watering systems, partnerships with growers, very excellent volunteers and the right attitude to weather anything.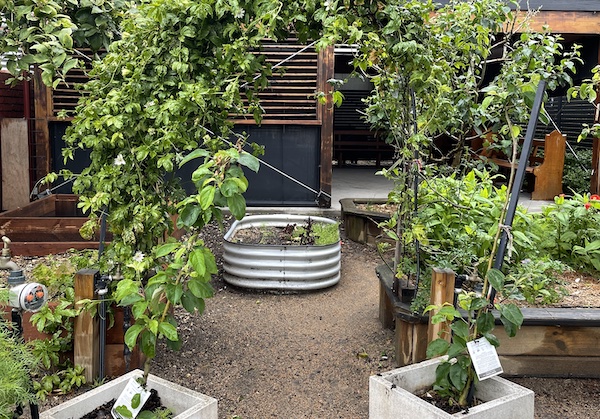 Garden at St Columbus Primary School
Steph Young, Sustainability Leader and Year 1/2 Teacher at St Columba's Primary School offered the following tips they use to keep their kitchen garden thriving over the summer holidays:
If you can, irrigate your garden beds and use a system on a timer. This has helped keep our garden hydrated and thriving over summer.
Organise a roster of families to check in on the garden once a week over the summer. Our school has a very dedicated Green Team who keep an eye on the garden over holiday periods.
Plant fruits, veg and herbs suited to the summer months that can survive in harsher heat. 
Harvest any produce prior to the term ending and get families to harvest anything ready to be used over the holidays so it doesn't go to waste.
The garden at Marmion Childcare Centre is more of a parkland, with lots of grass and trees. With the often unforgiving WA heat, educators have quite the task keeping the garden productive. 
Luckily, the service only closes for two weeks over the summer break, but Natasha Giglia, the centre's Director/Coordinator, says their approach to this time is much like their overall philosophy to the garden: what will be, will be.
They don't take special precautions to guard their raised beds and tubs during the summer break, but use anything that happens over that break as part of learning about the seasonality of a garden. It's an opportunity for children to observe what happens over time, and to muck in to regenerate what needs reworking. "We look at the balance, we look at what the kids can do and experience," she says.
They are lucky to have a great reticulation service to guarantee water supply, as well as a long-term partnership with a local grower who helps replenish their supplies. Natasha recommends this community partnership model: "If schools or services can connect with a local grower, that's a great partnership. They can donate from their over-supply and help you with new planting."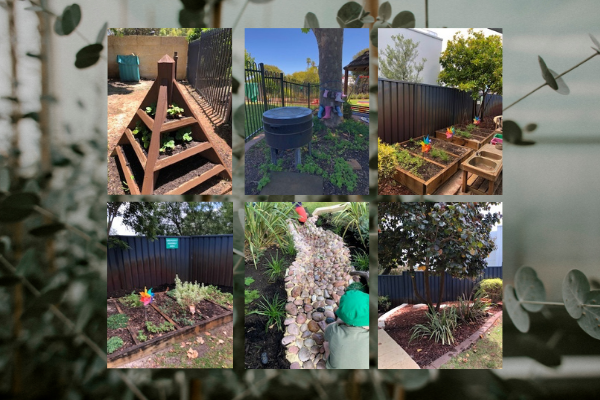 The garden at Marmion Childcare Centre
Jen McLenann, Food Technology teacher for years 7-12 at Cobden Technical School in Victoria's west, uses a mixture of preparation and clever thinking, plus a roster of holiday volunteers to keep their garden thriving over the summer months.
They generally put extra mulch around before they head off on holidays, and she's learnt to leave a bit of their planting until the end of term, so they have some produce to come back to.
But it's volunteers who really keep things humming, with staff and families putting in time over the long summer break. Being a small school in a small town, most of the school community live close by, which makes thIngs easier. She does a call out in their newsletter and the school's Facebook page and when it comes to the community helping out, Jen says it's never a problem: "It's been really lovely and people don't mind it."
As a bit of thank-you, volunteers can help themselves to any produce ready to harvest, which is also a win-win for the kitchen garden program, so they don't "come back to a heap of zucchinis the size of houses."
Jen also heads in about twice a week just to make sure everything's looking ok, give the garden a nice big water, do a little bit of weeding, and check on pest control, including snails and rabbits who have also been helping themselves lately!
Read the resource, How to survive your kitchen garden summer, on the Shared Table for more tips and tricks.
< Back to Latest News