Creating partnerships to support Tassie kids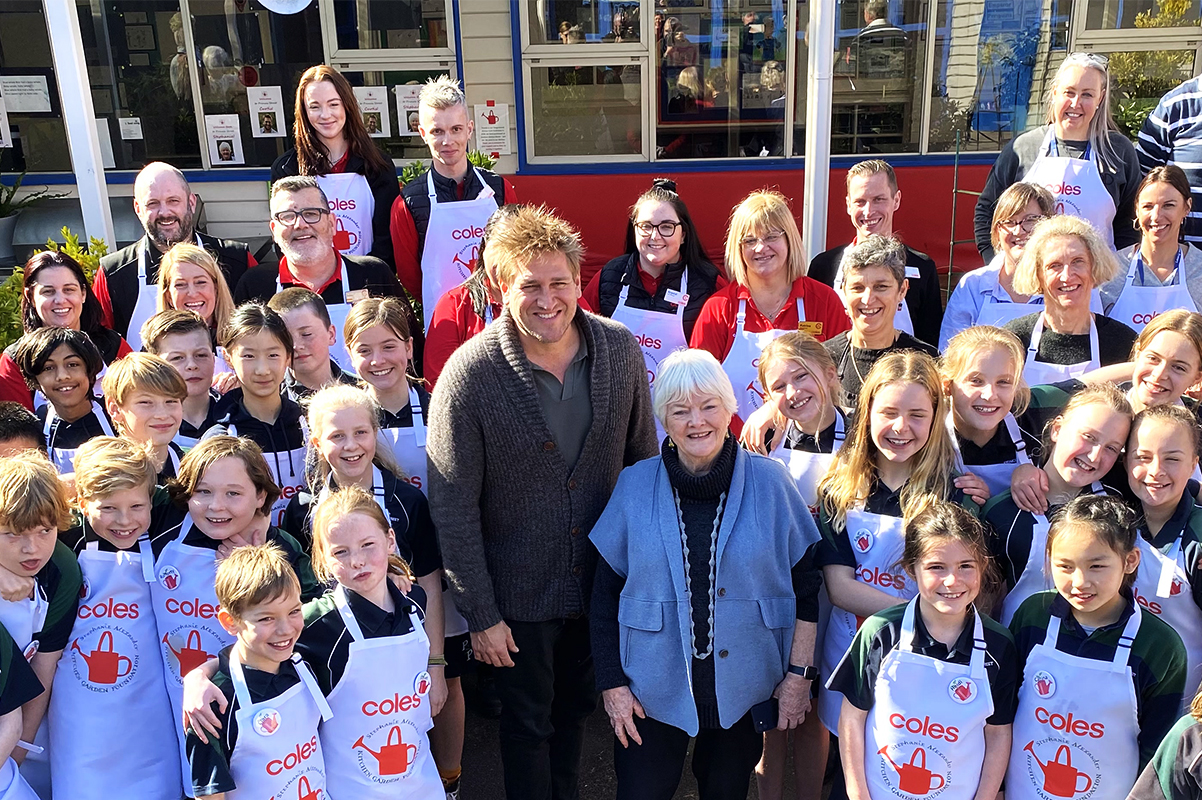 Tuesday, August 30, 2022
The Foundation is proud to join with our community partner Coles to create long-term, sustainable partnerships between local stores and schools across Tasmania.
From 31 August until 20 September, customers can purchase a $2 donation card at any of the 17 Coles supermarkets in Tasmania, directly supporting a local school to start or grow their kitchen garden program. Funds raised will go towards purchasing gardening tools and infrastructure – this could be anything from buying a new oven, to repairing an old garden path. Coles team members will also assist schools through a range of initiatives including working bees, maintenance, and food donations. 
One of the Tassie schools to receive support in last year's fundraising campaign was East Derwent Primary School. They were able to increase their composting capacity across all year levels with the purchase of additional gardening equipment and compost bins. In addition to financial support, Coles Bridgewater team members regularly donate leftover produce and scraps from their store to help the primary school's compost and worm farms thrive.
On the north coast of Tasmania, Ulverstone Primary School used the funding they received from last year's campaign to grow their garden bed capacity, purchasing a picnic table and benches for outdoor cooking and eating to create a garden learning space. Team members from Coles Ulverstone swapped supermarket shelves for wheelbarrows for a day, joining parents, teachers, and students to set up the new outdoor learning area.
Stephanie Alexander AO and Coles ambassador and Michelin star chef Curtis Stone visited Princes Street Primary School in Sandy Bay to kick off the fundraiser – where they were greeted by happy kids and scarecrows made up to resemble the duo.
We're really looking forward to this wider vision of being connected to our community. We are so grateful that we are receiving this community-based fundraising which enables us to both keep our program going and to take on new projects.

–Sue Clayton, Kitchen Garden Coordinator, Princes Street Primary School  
Coles Ambassador Curtis Stone said the success of the program at Princes Street Primary School demonstrated the difference that early learning about healthy eating could make to children's lives. "Coles has always strived to be Australia's most sustainable supermarket, and the Kitchen Garden Program is a wonderful way to teach the next generation about these important lessons, which they can then take home to their families," he said. "Just by purchasing a $2 card at the checkout, customers can make a big difference to the education of many kids in Tasmania."
We look forward to seeing Tasmanian schools and Coles stores continue to work together to take the Kitchen Garden Program beyond the school gate and into the broader Tasmanian community. "Our goal is for the program to reach more Tasmanian children and teach them how to grow, prepare, cook and enjoy food together with their families in a healthy and sustainable way," adds Stephanie.
The $2 donation cards will be available at the point of checkout in all Coles supermarkets across Tasmania from Wednesday 31 August, until Tuesday 20 September.
< Back to Latest News