Collective impact in Central Goldfields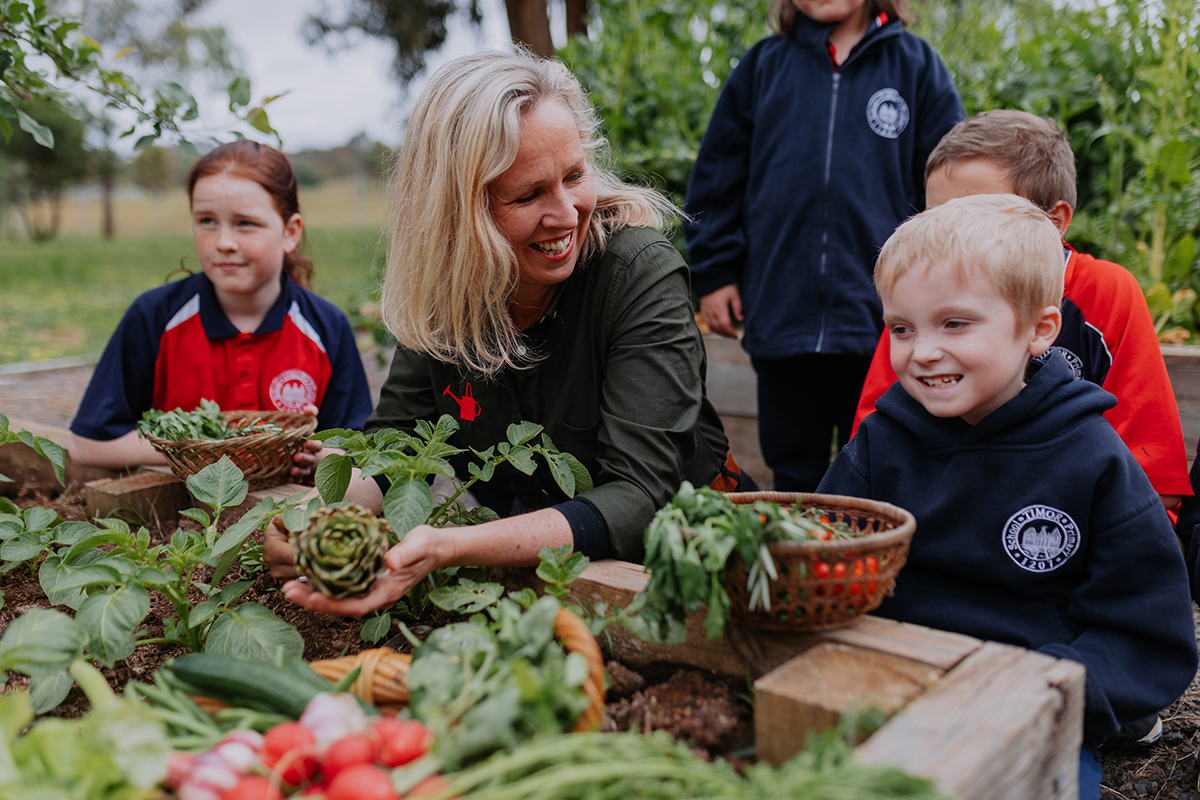 Monday, March 6, 2023
Eight out of eight schools have registered with our Healthy Kids Advisor in the Shire of Central Goldfields. With 100% of schools on board, our Advisor, Ciel Lindley, is now reaching over 2500 local children and young people to instil a passion for great food, sustainability and invaluable life skills. 
Working adaptively with each school's unique requirements, Ciel supports a collective of teaching staff across the shire to expand student access to healthy, delicious food and drink in classrooms, playgrounds and at school-based events.
Already, Timor Primary School have teamed up with Ciel to utilise their newly refreshed veggie garden and student kitchen to cater for school community events. With the Foundation's recipe guidance and Ciel's connection to local food networks, they are working towards catering their 100-year school reunion later this year.  
Maryborough Education Centre is the largest education hub in the shire, with 1200 students. Ciel is working with the Principal and Assistant Principal for Student Wellbeing towards a total canteen transformation. This will be built on student co-design to support a healthy and delicious micro food system where students prepare and serve nourishing food across all year levels. 
We are at the start of our journey with Ciel and the Healthy Kids Advisors initiative. In a short time, Ciel has created energy and initiated a conversation in our community about children's health and food in the community, which is growing rapidly. She has quickly established rapport with the key educators and support staff across our school's organisation. The excitement that is building for what is possible, is palpable.

David Sutton, Principal
Maryborough Education Centre
The first step for Highview College is to transform its tiny, dormant veggie patch into a paddock-to-plate harvest area for its 650 students. While at St Augustine's Primary School, they plan to integrate their sustainability course into components aligned with the Vic Kids Eat Well framework. Students plan to attend the newly formed Central Goldfields Food Network to immerse themselves in local food system knowledge and represent a student voice at the meetings.
Carisbrook Primary School, with 264 students, want Ciel to help start their produce garden, look at how they can embrace pleasurable food education within their classrooms and integrate the Vic Kids Eat Well steps into their school's sustainability program.
The smaller schools are not getting left behind. Dunolly Primary School, with 79 students, is excited about connecting their veggie patch to cater their annual Christmas BBQ fundraiser with lots of fresh, healthy food and homemade sauce creations.
Talbot Primary School, with 45 students, are just beginning to explore ideas, including re-invigorating dormant vegetable patches and working alongside the Freeza Coordinator to pilot a model that will use gardening time as part of a new Alternative Learning engagement project.
And last but not least, Bealiba Primary School, with just four students, are planning a cultural exploration project drawing on local agricultural practices and food traditions and culminating with a cooking presentation at a Country Womens Association (CWA) event in May.
We are excited to see how this whole-of-community plan will impact the shire's school communities. The initiative aims to bring teaching staff and students together in meaningful consultation and offer hands-on pleasurable food education to support school health and benefit the shire with improved food culture and social wellbeing.
About the Healthy Kids Advisors initiative 
The Healthy Kids Advisors initiative is delivered by the Stephanie Alexander Kitchen Garden Foundation and supported by the Victorian Government and Australian Government. 
This community engagement initiative is active in 13 priority communities to spread pleasurable food education and encourage participation in the state-wide Vic Kids Eat Well movement. 
In collaboration with local health promoters, Council and community, our Advisors offer free support and simple ideas to boost healthy and delicious food and drink in schools, sports clubs, after-hours care and council-run facilities. 
Want more information?
visit the Healthy Kids Advisors news page or contact us at hka@kitchengardenfoundation.org.au.
Follow us
@sakgf #HealthyKidsAdvisors

< Back to Latest News