Peer-to-peer food education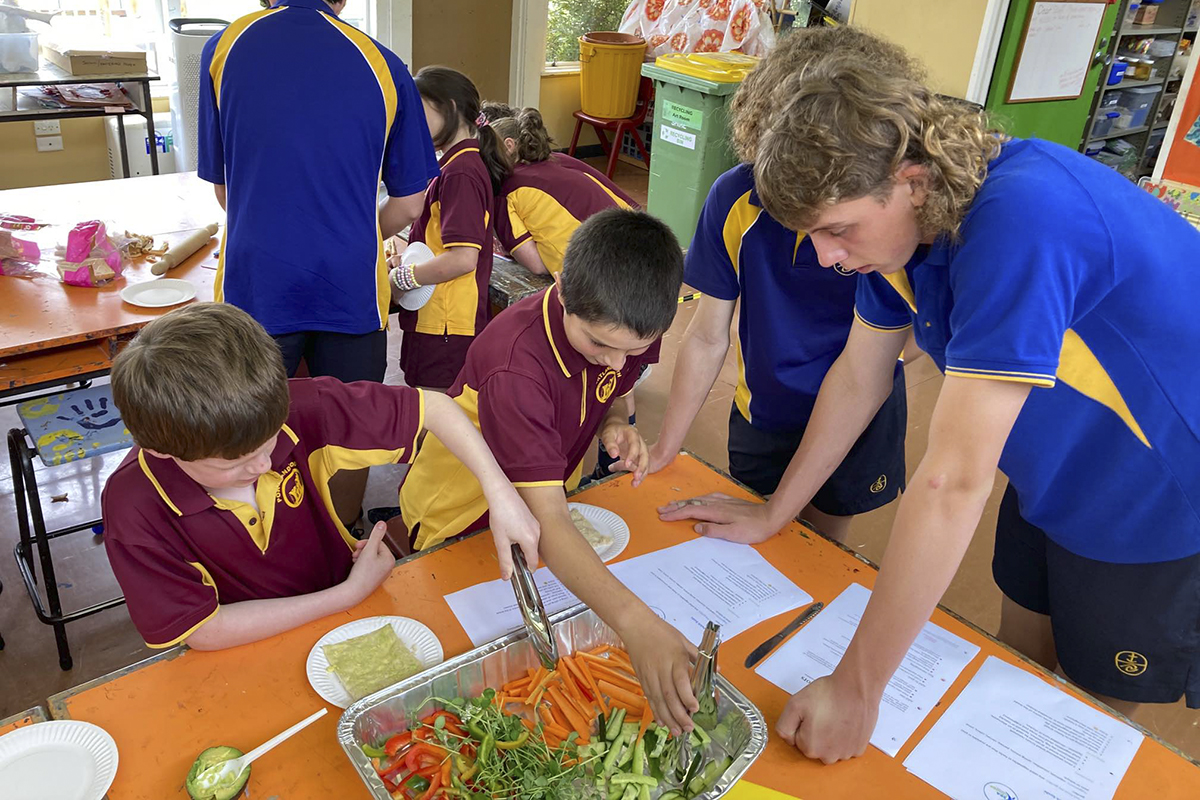 Monday, November 28, 2022
Bayview College in the Glenelg Shire of Victoria is a vibrant, student-centred school with 260 students from Year 7 to Year 12.
The college collaborated with our Healthy Kids Advisor in Glenelg,  Jane Killmister, to deliver a memorable day of peer-to-peer food education that brought the whole community together. Senior students were trained in pleasurable food education and nutrition before sharing their knowledge with 90 young students in neighbouring primary schools.
This unique learning model was sparked from conversations Jane had with Kym Maybery, Bayview College's Health and Physical Education Team Advisor. Together, they explored the college's healthy eating priorities and how Jane's free, tailor-made support could boost their ability to achieve these goals.
Food literacy, healthy fundraising and freshening up the snacks in the Breakfast Club were the key areas of attention. Engaging students in these issues through hands-on education and youth-led learning would create long-lasting change at Bayview College, which students could be proud of.
A student-led community group
Jane was introduced to the Bayview College Circle Program, which guides 50 Year 9 students through personal growth and community development. The students were already committed to improving their school's food environment, so they discussed with Jane how they could develop solutions together, action improvements and share findings outside their school gates and into the local community.
From these initial conversations came four months of collaboration and planning between Jane, the teaching staff and the Circle Program students. After consulting with the young people about their self-identified needs, a series of healthy eating workshops were developed, led by Jane and the teaching staff.
Teaching the senior students
Jane and Bayview College staff members ran the healthy eating workshops to inspire the Circle Program students to reimagine the school's food environment. Teachers Chris Thomas and Stacey Thomas, and Learning Support, Nick Oakley introduced the group to nutrition topics such as metabolism, body and brain power, reading food labels and starting the day with good nutrition.  
Our Healthy Kids Advisor, Jane, hosted a "Switching up the Snacks" session to spotlight fresh and tasty snack ideas like healthy smoothies boosted with microgreens. Working with Jane, the students identified the potential to redesign the food menu at Breakfast Club and plan a canteen that would nourish all year levels.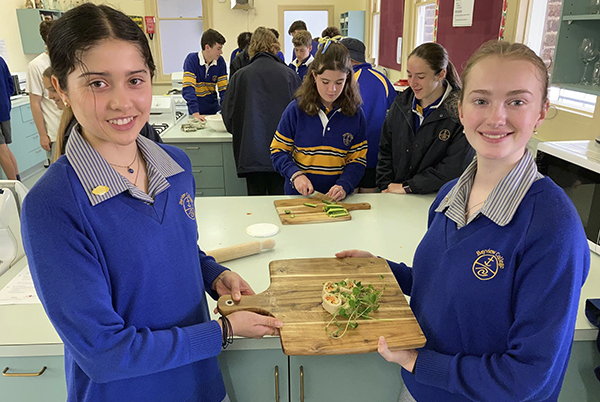 Sharing the knowledge with younger peers
After these training workshops, the 50 Circle Program students took their experiences from Jane and the Bayview College teaching staff into the community. They coordinated and led a peer-to-peer education day in three neighbouring primary schools: Portland South Primary School, St Johns Lutheran Primary School and Kitchen Garden Program member Portland North Primary School.
Showcasing what they learned from Jane, students led their own "Switching up the Snacks" workshops to over 90 primary school students from Years 2 to 6. The younger students worked with the seniors to prepare freshly sliced capsicum, carrot, cucumber and avocado and develop recipes for fresh, crunchy salad wraps.
While preparing food together, older students led casual discussions around the benefits of eating seasonally and some easy, healthy swaps to popular school snacks. Could their school make smoothies instead of hot chocolates? Could they swap fried chips for air-popped popcorn?
The ripple effects
The peer interaction between older students and younger students was an inspiring occasion of positive social influence. New dialogues were sparked, and staff noticed the younger students tasting and enjoying the food they'd previously refused from adult leaders. 
"Children learn by doing and sharing. There is great potential for peer-to-peer food education to improve nutrition knowledge and attitudes towards healthy eating."

Jane Killmister, Healthy Kids Advisor - Glenelg
The community day was an exciting, practical way to share knowledge across age groups and neighbouring schools. Seeing the power of this positive peer support in action and witnessing the impact of Jane's role at Bayview College, both Portland South Primary School and Portland North Primary School signed up to work with the Healthy Kids Advisors initiative. Jane is excited to begin a journey with them to identify ways to reach their healthy food and drink goals and guide them through the Vic Kids Eat Well movement.  
Back at Bayview College, Jane will continue to work with the school to design healthy fundraising ideas, enhance their Breakfast Club, discuss options for a canteen and mentor the next cohort of Circle Group students in 2023.
About the Healthy Kids Advisors initative
The Healthy Kids Advisors initiative is delivered by the Stephanie Alexander Kitchen Garden Foundation and supported by the Victorian Government and Australian Government. 
This community engagement initiative is active in 13 priority communities to spread pleasurable food education and encourage participation in the state-wide Vic Kids Eat Well movement. 
In collaboration with local health promoters and the Council, Our Advisors offer free support and simple ideas to boost healthy and delicious food and drink in schools, sports clubs, after-hours care and council-run facilities. 
Want more information?
To connect with us or find out more, visit our web page and news page, or email hka@kitchengardenfoundation.org.au
Follow us
#HealthyKidsAdvisors, on Facebook, Instagram, Twitter, and LinkedIn. 

< Back to Latest News