Vic Kids Eat Well award nominations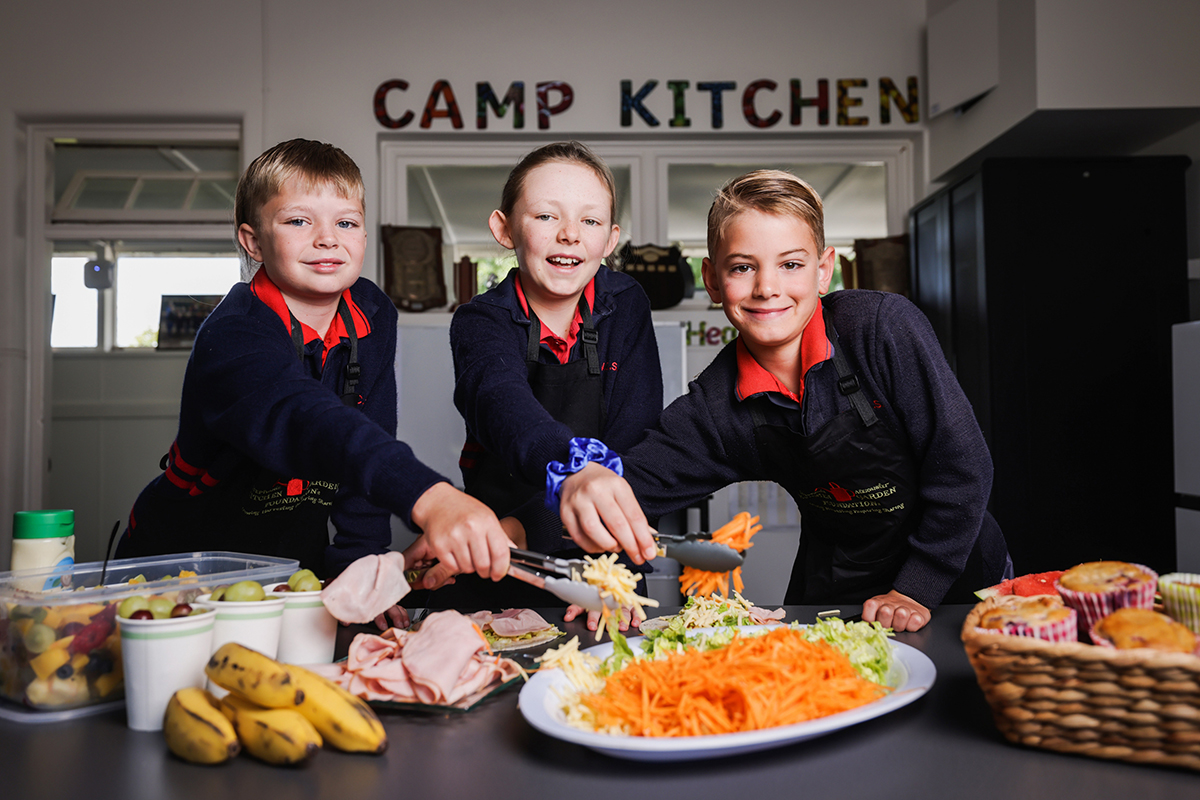 Tuesday, March 7, 2023
Image credit: Students from Branxholme-Wallacedale Community School taken by Herald Sun / Nicole Cleary
We are proud to have our Healthy Kids Advisors initiative strongly represented in the first state-wide Vic Kids Eat Well awards! 
 
The awards celebrate the outstanding efforts of Victorian schools, outside school hours care, sports clubs and community organisations that are on their way to boosting healthy food and drink options to help kids learn, play and grow.  
Over 40% of nominations stem from the huge effort our Advisors, schools and settings, community partners and young people have achieved in the 13 local government areas we operate in.  
 
Let's look at the wonderful nominations our Advisors supported in 2022: 
Schools 
 
Branxholme-Wallacedale Community School and The Hamilton & Alexandra College were nominated by our Advisor in the Southern Grampians, Monique Sobey, for their impressive commitment to reinvigorating their school with community-minded, student-led food celebrations and healthy adjustments. 
 
Staying in this region, St Mary's Primary School have linked to their Healthy Kids Advisor to start up the garden again with the school-based mentoring program, Standing Tall. The school had a successful fundraiser selling herb posies and also received their Advisor's support host a healthy Athletics Day 'refueling station'. Next on the to-do list is more fundraising through a small canteen.
In Shepparton, two schools automatically received a nomination for achieving a 'Big Bite' with their Advisor, Katie Thorp. Katandra West Primary School completely refreshed their fridge and committed to becoming a water-only school. Kialla West Primary School worked with Katie to achieve three Vic Kids Eat Well milestones: switching up the snacks, putting the fun into fundraising and changing up the menu. Kialla West has reinvigorated its veggie garden, overhauled its canteen menu, received pleasurable food education sessions for multiple grades and begun a small cooking session each week.  
 
Nichols Point Primary School in Mildura, guided by our Advisor Tara Martin, also achieved a nod for refreshing their fridge options and giving water the spotlight. And in the City of Greater Dandenong, our Advisor, Belinda Nowakowski, nominated St Josephs. Primary School for the tireless energy the leadership team has displayed in shaping healthy opportunities for their students. 
 
Outside School Hours Care (OSHC) 
 
Big Childcare Heathdale Christian College in Melton was auto-nominated for rethinking their menu with their Advisor, Maryann Barsoum, adding milk and alternatives for breakfast and afternoon tea. 
Mildura's Red Cliffs East After School Care, supported by Advisor Tara Martin, have made notable changes to healthy eating by offering vegetables and fruit every day, cutting out sugary drinks and baking savoury muffins with the children to keep them engaged and interested in tasty, healthy snacks.  
In cooperation with Sunraysia Community Health Services and our Healthy Kids Advisor, Tara Martin, we've been able to change our afternoon snack menu to reflect healthier choices for children in our service. Tara has supported us all the way and has provided great recipes where children can be actively involved in preparing food to encourage children to take the initiative and ownership of what they eat. We look forward to continuing our journey and working towards the Vic Kids Eat Well goals. I would recommend the program to all After School Care programs.

Alina Meyer, OSHC Coordinator 
Red Cliffs East After School Care
Finally, the OSHC at Athol Road Primary School in Springvale has swapped their after-school menu items with tastier, wholesome versions stacked with vegetables and home-grown produce from their sprawling gardens. Each week the students choose the menu, and senior students cook the items with our Advisor and serve it to their peers. Recently, they've whipped up Vietnamese rice paper rolls, pesto pasta, chilli con carne and guacamole.
Sports clubs and community + council-run facilities 
 
Springvale Library was recognised for its impressive menu transformation, led by our Advisor for the City of Greater Dandenong, Belinda Nowakowski. They have updated the drinks fridge to include 50% water, added fresh new items to the menu (including sushi and rice paper rolls), and introduced a healthy Kid's Snack Pack for Storytime sessions. 
 
Hamilton Indoor Leisure and Aquatic Centre (HILAC) in the Southern Grampians have embraced the opportunity to change its café. With their Advisor's hands-on teaching, they've added sweet potato fries, mini pizzas, pasta salad cups, fruit salad granola cups and zucchini slices to the menu. They've replaced some ice cream lines with healthier choices, including homemade 100% fruit juice icy poles.  
 
Verve Café Aquamoves in Shepparton received an auto nomination for significantly boosting the fruit and vegetables on their menu and minimising their fried food offerings. With their Advisor's support, they are steadily working towards reducing their sugary sweetened beverages, and nearly 50% of their foods now meet healthy requirements.  
 
Community champion 
 
Congratulations to the following community champions! We have loved connecting and collaborating with you through your Vic Kids Eat Well journey. 
 
Diana Dixon, Hamilton Indoor Leisure and Aquatic Centre 
Alan Brew, St Joseph's Catholic Primary School 
Wendy Beveridge, Athol Road Primary School OSHC  
Robert Brown, Kalianna Specialist School 
Kids champion 
 
We enjoy every opportunity to connect with the children, and young people we engage in pleasurable food education and the Vic Kids Eat Well journey.
A big congratulations to the 12 students from Branxholme-Wallacedale Community School for their significant effort and imagination in shaping the transformation of their food and drink environment. 
 
Network excellence 
The newly formed Northern Grampians Shire Prevention Network is a group of six local health promoters from Grampians Community Health, Grampians Health (formerly Stawell Regional Health), East Wimmera Health Service and the local Healthy Kids Advisor, Lauren Dempsey. With minimal preventative health funding across the shire, members have established a 'prevention hub' where they co-locate one day a week to work together and support each other with Vic Kids Eat Well registrations and implementation.   
Congratulations to all who have demonstrated their extraordinary commitment to championing healthy changes! The winners will be announced at the Vic Kids Eat Well awards ceremony on 31 March 2023. Register now.
 
About the Healthy Kids Advisors initiative 
The Healthy Kids Advisors initiative is delivered by the Stephanie Alexander Kitchen Garden Foundation and supported by the Victorian Government and Australian Government. 
This community engagement initiative is active in 13 priority communities to spread pleasurable food education and encourage participation in the state-wide Vic Kids Eat Well movement. 
In collaboration with local health promoters, Council and community, our Advisors offer free support and simple ideas to boost healthy and delicious food and drink in schools, sports clubs, after-hours care and council-run facilities. 
Want more information?
Visit the Healthy Kids Advisors news page or contact us at hka@kitchengardenfoundation.org.au.
Follow us
#HealthyKidsAdvisors, on Facebook, Instagram, Twitter, and LinkedIn. 
< Back to Latest News