Student-led change in the City of Greater Dandenong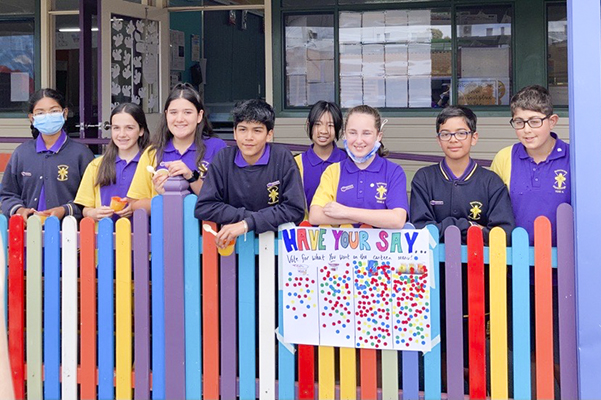 Monday, December 12, 2022
As 2022 comes to a close, we'd love to share three special highlights of simple student-led change from which we can all draw inspiration.
Belinda Nowakowski, our Healthy Kids Advisor for the City of Greater Dandenong, has brought together community partners and young people to shape and lead their vision of healthy and delicious change in local primary schools.
St Joseph's Catholic Primary School in Springvale have improved its food and drink options with a whole-of-school approach. Assistant Principal Alan Brew incorporates healthy messaging into the curriculum wherever he can to focus the students' attention on positive eating habits. Belinda has enhanced Alan's efforts by strengthening their Kitchen Garden Program and canteen development.
Since working with Belinda, St Joseph's has removed all unhealthy items from the canteen and, with her continued support, will work towards completing more Vic Kids Eat Well steps. The school now closes its canteen every Wednesday to host a weekly cooking session using the fresh herbs and vegetables grown and harvested in their school garden.
Through her hands-on food education classes, Belinda has encouraged students to design a Healthy Eating Week to champion fresh food choices. The week was a big success, with a salad wrap lunch-making session for parents and children, Free Fruit Friday, and a special sushi day for all year levels.
"We've had many opportunities to celebrate healthy food as a community and the students were also engaged in the establishment of a Healthy Eating Week. Belinda supported our celebration and her ideas about Free Fruit Friday were highly successful."

Alan Brew, Assistant Principal
St Joseph's Catholic Primary School
Another great example of student-led innovation is coming out of Resurrection Primary School in Keysborough. The Student Leadership Team reviewed the school's classroom initiatives, vending machine stock, cafeteria items and fundraising choices to find out what new adjustments they would like to see.
"Belinda has been working with a group of Year 6 Leaders to design a campaign to encourage healthy eating across the school. This has involved reviewing our canteen menu and looking for opportunities to make small, lasting changes. Belinda has shown our school community that change is possible — one step at a time — when the entire school community is on board. We are proud to have a Healthy Kids Advisor at our school and look forward to celebrating success with our changes."

Danielle Rowley, Wellbeing Leader 
Resurrection Primary School
The Leadership Team compiled their ideas and leaned on Belinda's guidance to implement action. To introduce the transformative suggestions to the school community, Belinda assisted teaching staff and student leaders in offering samples of the new, healthy canteen menu for the whole school to try and vote on. These new items, such as naturally sweetened Greek yoghurt, will replace sugary soft drinks and jelly cups. This exciting experience ignited the children and staff to feel connected to the new menu and claim a space to celebrate fresh, nutritious change.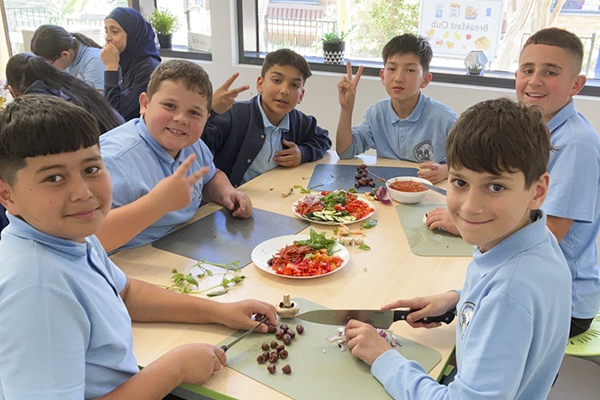 Dandenong South Primary School doesn't have a canteen but asked Belinda to support the school with healthy food messaging. Supporting the school's Student Representative Council, they designed a week of promotions around healthy eating.
A competition was launched where each class tried to bring a different fruit or vegetable each day of the week to eat the whole rainbow. Five points were awarded for bringing the right colour and an extra point was granted for any other colourful fruit or vegetable in their lunch box or snack pack. The class with the most points won a delicious pizza making session with Belinda.
Students from the winning class made the dough, pesto and homemade pizza sauce from sratch. Colourful, healthy pizza toppings were discussed and prepared, including capsicum, mushroom, zucchini, olives, spinach and mozzarella. Renee Nguyen, Year 5/6 Teacher said, "This is the best activity we've ever done. These kids never get opportunities like this." Another teacher said the healthy eating promotions were so well received that they plan to do it several more times a year.
About the Healthy Kids Advisor initiative
Our Healthy Kids Advisor in Greater Dandenong is connecting with schools, outside hours school care, sports clubs and community/council facilities to help boost access to healthy food and drink options. All these facilities in Greater Dandenong can receive free one-on-one support from their Healthy Kids Advisor. 
Our dedicated workforce of Healthy Kids Advisors operate in 13 communities to deliver pleasurable food education and boost participation in the Vic Kids Eat Well movement. Vic Kids Eat Well is a state-wide initiative supported by the Victorian Government and delivered by Cancer Council Victoria's Achievement Program, in partnership with Nutrition Australia's Healthy Eating Advisory Service.
Want more information?
To connect with us or find out more, visit our web page and news page, or email hka@kitchengardenfoundation.org.au
Follow us
#HealthyKidsAdvisors, on Facebook, Instagram, Twitter, and LinkedIn. 

< Back to Latest News