The Kitchen Garden Program for Early Childhood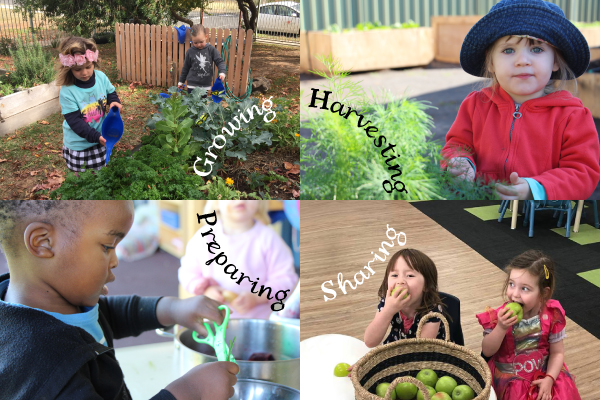 Launched in 2020, the Kitchen Garden Program for Early Childhood has been developed in consultation with the early childhood community. The program promotes a whole-service, play-based approach to delivering pleasurable food education to young children. Pleasurable food education is a fun, hands-on approach to teaching children about fresh, seasonal, delicious food so they can form positive food habits for life. 
"Children discover real-life, authentic experiences first-hand, which contributes to lifelong learning in the areas of literacy, language, maths, science and sustainability to name a few." – Maryanne Blanch, Educational Leader, Californian Gully Kindergarten
The Kitchen Garden Program for Early Childhood offers educators a comprehensive package of professional development, educational resources and support, including:
the 10 program fundamentals for delivering a best-practice Stephanie Alexander Kitchen Garden Program for Early Childhood

the Shared Table, an active online community that connects thousands of kitchen garden educators across the country with an extensive library of resources and activities 

visual recipes in a variety of formats to engage children in cooking experiences 

examples, case studies and resources for innovative approaches to cooking and gardening in a play-based learning environment 

a framework, self-assessment tool and workbook series, as well as guidance on starting points for your kitchen garden and progress towards achieving a best-practice kitchen garden program

professional development sessions to assist with your program implementation and delivery.
The Kitchen Garden Program for Early Childhood supports the implementation of the Australian Children's Education & Care Quality Authority (ACECQA) National Quality Standard (NQS) and links pleasurable food education to outcomes of the Early Years Learning Framework.


Hungry to get started?
Become a member today and join a community of early childhood educators and service providers teaching children how to grow, harvest, prepare and share fresh, seasonal, delicious food. 
Membership price
1-year membership $330
1-year membership renewal $165
Complete online form to join today
For information or support with your program, contact our Support Team on 13000 SAKGF (13000 72543) or support@kitchengardenfoundation.org.au